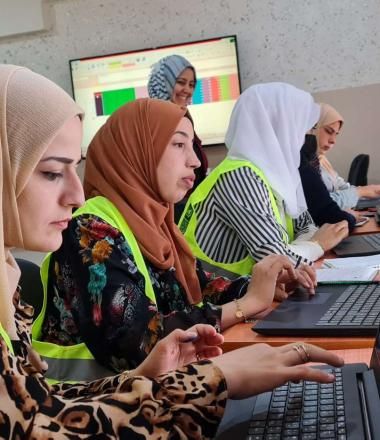 Socio-Economic and Community Resilience for the Prevention of Violent Extremism in Ninewa, Anbar, and Salah al-Din
Funded by

Key figures
host community, returnees and internally-displaced persons benefitting from resilience building and mental health psychosocial support
people will benefit from improved livelihoods, mental health and psychosocial support, and preventing violent extremism
Goals and objectives
The "Socio-Economic and Community Resilience for the Prevention of Violent Extremism in Ninewa, Anbar, and Salah al-Din" project funded by UNDP aims to improve human security and stability through socio-economic support to the most vulnerable groups including host communities, returnees, IDPs, and youth at risk of violent extremism, while focusing on women.  
Key actions
1. Improve livelihood and economic reintegration through vocational training, business management training, business mentorship, and financial support. 
2. Provide mental health and psychosocial support services (MHPSS) and strengthening understanding and acceptance of MHPSS, including symptoms, how to effectively engage with individuals experiencing a mental health crisis, and utilizing referral pathways for affected individuals to access care.  
3. Build resilience and facilitate the integration of returnees and prevent violence through women specific interventions. This includes conducting gender-sensitive assessments to identify needs, challenges, and concerns related to promoting prevention of violence. 
4. Rehabilitate and operationalise MHPSS Center in Rummaneh and Baiji to full capacity.  
Project duration  
March to November 2023  
 
Project locations  
Ninewa, Mosul, Salah al-Din, Baiji, Anbar, Al-Qaim, Rummaneh