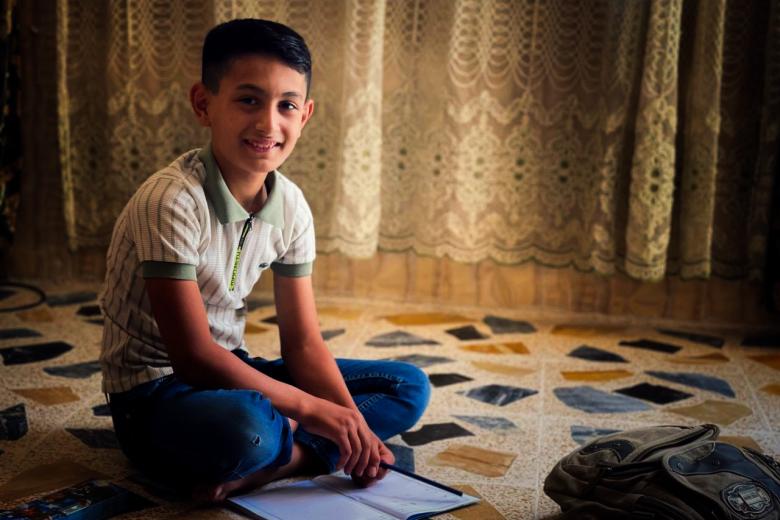 When fears turn into schoolbags of dreams and hopes
Wednesday, June 15, 2022
Written by Noora Jader, Livelihood Assistant
In the midst of a constant struggle between the need to dismantle heavy engines and the desire to assemble letters into words.
Muneer* is a twelve-year-old who lives with his family of five. Muneer was born in the city of Tooz to a father who was unable to go to school when he was younger and a mother who was unable to complete her education due to unforeseen circumstances.
For this family, the worry about accessing education has always been constant. Hamid*, Muneer's father, remembers how he used to watch other children go to school while he could not. He always wished to try carrying a backpack. However, instead of learning and enjoying a childhood full of books and laughter, he became a man too early, trying to earn a living and learning how to worry and fear. His biggest fear today is that his children would face the same fate.
When the conflict started in 2014, Hamid had to face the first real threat of the conflict to his work in his car workshop. When the movement of cargo vehicles on the outer road declined as movement between places became more dangerous, so too did his income.
Then matters got worse in 2016 when militant groups entered his workshop, threatened his life and stole his tools, eventually forcing him to abandon his work. Hamid said, "It was a terrifying time for me but mostly because having to stop doing what I used to do best meant my children would have to come to work with me in the workshop instead of going to school. I used to look at the faces of my children and feel very helpless.".
He tried to find additional jobs to make ends meet and recover all he lost during the conflict. He worked as a taxi driver, but even this was not enough. His financial situation continued to deteriorate, especially with the increased school needs of his children.
At the same time, Muneer's fondness for cars and bicycles appeared, especially when his academic level declined due to a period of absence from school due to his father's inability to pay for his tuition. Muneer had to take private lessons because he was absent from school for a while and he needed to catch up with the classes.
Muneer said: "I was having difficulty understanding some school subjects. My reading skill declined. I began to think that it would be better if I relieved my father of some of his burden and joined him to work with him." His father rejected that idea, but his son's insistence, he took him one unfortunate day to his workshop where with limited tools, he was trying to continue doing some work.  Hamid shared about that one harrowing day, "That moment the iron block fell on my chest and felt my ribs break, I could not think of anything but my little boy, Muneer. What would happen to him if he was in my place? The pain in my heart was more severe than the pain of my shattered ribs."
This was the decisive event in Hamid's life that made the issue of educating his children a matter of life or death. So it was clear to Hamid that the time had come to create a miracle he needed and not to wait for it. So he decided to re-establish his workshop properly. At a time when Hamid was looking for support to grow the workshop and ensure it became a viable business, he heard about the grants offered by the World Vision Iraq to support small projects. He did not hesitate to present his project idea and was enthusiastic during his business management training period. After receiving all the payments, Hamid re-established his own integrated workshop and plans to make it the best in his town.
He was also able to pay for Muneer's tuition and during this period Muneer had improved his school scores.
In addition, he provided his children with all the school supplies, especially the schoolbags which he had always dreamt of carrying. He is especially happy that the bags of his dreams contain books and education material, which will give his children bigger dreams and goals in the future.
Today, Muneer has completed his primary school exams and is excited about the future. For him, his father's happiness means everything, "I used to think that my work with my father would make him happy, but only my success made him fully happy."
The Livelihoods and Economic Recovery Project is implemented by World Vision Iraq in partnership with UNDP Iraq and with funding from BMZ and KFW.  Through this project in Tooz, 840 people were assisted with small and micro businesses to generate employment opportunities for youth, women and vulnerable communities.
*Names have been changed to protect identities.