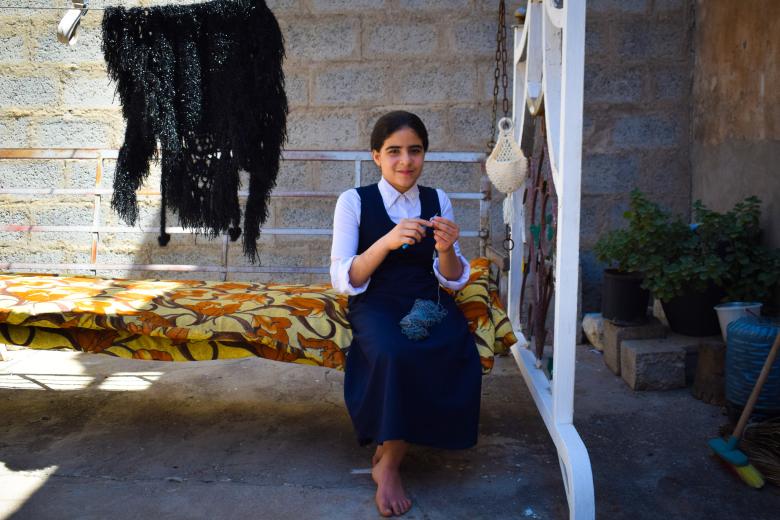 Little Mays'* journey through pain ends in triumph
Tuesday, July 11, 2023
Sometimes the hardest journeys and most difficult trials can test ones' endurance, patience, and even end up in triumph. For Mays*, this was precisely the case, even though it was very early on in her life.
In 2018, when little Mays was only eleven years old, she was bedridden for seven months after a surgical intervention to her lower extremity. Her parents and a kind neighbour helped her out during those challenging months, keeping her company and tending to her needs.  
Soon after, Mays* began to suffer from sores on her body due to her prolonged stay in bed. However, the loving care of her family and neighbors eventually helped her recover, and the sores eventually healed.
It was not an easy journey, but for Mays, the moment she entered the surgical room was marked as a victory for her. Mays shared, "The moment I was most proud of was when I underwent the surgical operation. I was afraid. I was feeling fearful inside.  The first time I opened my eyes (after the surgery), I saw my mom and dad. I was feeling pain then."  This was one of the three operations that Mays underwent in her young life.
When Mays was born in 2007, she was a chubby baby and she looked like any other healthy child. But even back then, her mother, Rabab*, noticed that her child was crying often. She did not realize then the reason. She took her to several doctors but to no avail.  When Mays grew older and started learning to walk, Rabab noticed that her little child was walking with a limp. Rabab took Mays to a doctor in her city. The doctor referred her to a hospital in Erbil, 96 kilometers away from Kirkuk where they lived. 
In Erbil, the hospital asked Rabab for 12 million IQD (US$9, 219) in order to treat her daughter. Rabab said, "Our situation was poor.  How could I get the money? I could barely collect one or two million IQD (US$568 to US$1,536.5). I did not have that amount.  If I were to go to a private hospital, it was going to be 25 million IQD (US$19,206). Where would I have gotten the money? Then the doctor told me that Mays would either live or be paralyzed (if she underwent the surgical operation). I said then that it was better to walk with a limp than to be paralyzed. It is difficult to be paralysed."
Rabab continued, "For the surgical operation in 2008, the doctor didn't charge us the surgery cost but only the treatment cost. Mays' uncle and brother helped us with the cost of the treatment. Mays is now doing better than before. Her hip bone was protruding in the past, but now it is better. Thanks for everything."
Mays today is sixteen. She already missed three years of schooling because of the surgical operations she had.  She leans on Saba, her elder sister's shoulder, as she walks to school.  Saba helps Mays with her toilet visits at school. Meanwhile at home, these days, Mays feels she can, most of the time, do her toilet visits without the help of Saba.
This change came into Mays and her family's lives as World Vision Iraq in partnership with a local organization working for persons living with disabilities, Rozh Society, and with funding from World Vision Taiwan, helped rehabilitate the Water, Hygiene and Sanitation facilities in her home.  Mays shared, "They remodeled the bathroom, the toilet, the shower, and the doors. I can go to the bathroom on my own now. Before the toilet and the bathroom were very old but now, they are better than before. My sister still helps me but less nowadays."
Rabab also shared, "Our home was very old. Before we covered the windows with plastic sheets or wood panels and the doors barely closed. But now there is a change."
Mays today is in the first year of secondary school.  She loves history class. She likes the teacher of history class because she helps the students and is kind to them. She loves knitting socks and when she finishes a piece, she gifts it to the art teacher or to her siblings. 
Mays dreams of becoming a doctor one day and Rabab also has dreams for her daughter. She dreams that Mays will finish her studies and be able to build a stable life for herself. 
According to unofficial reports by relevant government departments, as of 2023, there are 1.5 million people living with a disability in Iraq. Among these, 470,000 are children aged between one and fourteen. The main three causes of disability among people are consequences of conflict, remnants of war, birth defects, and accidents of old age.
World Vision Iraq, in partnership with Rozh Society and with funding from World Vision Taiwan, has been intervening within households helping the most vulnerable people living with a disability. Through this project, we have helped 60 households (469 individuals) in Kirkuk and Hawija with rehabilitation of accessible water, hygiene, and sanitation facilities at their homes in order to ease their daily lives.
*Names are changed to protect identities.