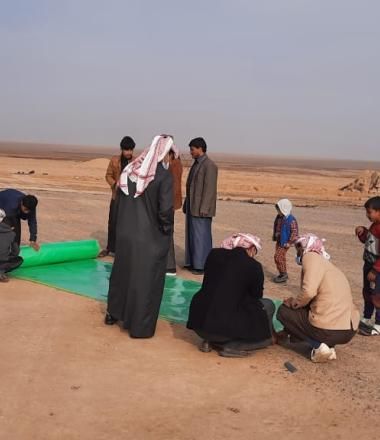 Enhancing the Communities' Ability to Adapt and Face Shocks, Crises and Climatic Changes in Al Hatra District – Ninewa
Funded by

Key figures
local farmers targeted to adopt promoted Al Hatra farm and field agroecology adaptation & optimisation practices
Goals and objectives
The "Enhancing the Communities' Ability to Adapt and Face Shocks, Crises and Climatic Changes in Al Hatra District – Ninewa" project funded by Aktion Deutschland Hilft aims to bo build and strengthen resilience to climate shocks and adaptive capacities of rural communities in Al Hatra, Ninewa. The project will strengthen agroecological practices and optimise onsite natural resources management (NRM) to address climate change in agriculture in Al Hatra Iraq. The project will also support communities and households to become more resilient to climate shocks and stress of wildfires associated with longer dryer seasons and extreme heat waves 
Key actions
1. Develop and design plans to adapt to climate and to reduce risks of disasters. This includes environmental; market; nutritional; social acceptance assessments, and agroecological best practices development of the specific context:  Al Hatra Home-Garden agroecology adaptation & optimization plans (Gender responsive intervention) Al Hatra's Farms and Field agroecology adaptation & optimization plans.
2. Provide support to Hatra's households, including women, to cope with climate change through adopting promoted Al Hatra farm and field agroecology adaptation & optimization practices.
3. Establish Community Based Disaster Risk Management (CBDRM) committees for reducing the disaster in Hatra. World Vision Iraq will conduct community and institutions' firefighting readiness using CBDRM and disaster risk reduction (DRR) to train and build community in systems technologies and practices to reduce the likelihood of fires and to mitigate their impact.
Project duration
August 2023 to July 2024 
Project location
Al Hatra district – Ninewa