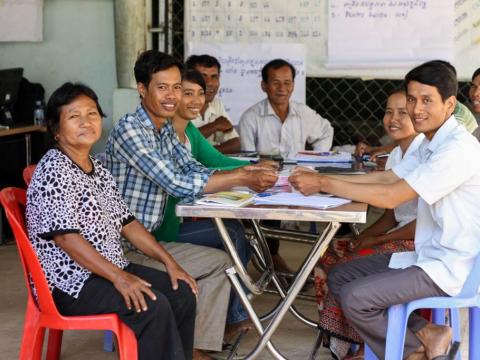 Supporting Community Committees Project Progress Report and Training Materials
Friday, May 6, 2016
Community Committees Project Model
Progress Report and New Training Materials

This Community of Practice webinar provides a progress report update on World Vision's Community Committees (COMM) Model.  
Community Committees: 'COMM' is a generic title given to a health-focused community group empowered to coordinate and manage activities leading to improved overall community health, and strengthened civil society. In most cases, COMM programming is carried out through an existing community health group; often a Ministry of Health-led and supported 'Village Health Committee". Illustrative objectives of a COMM may include:
Provide a support system for CHWs and other community health volunteers
Assess and track the community health situation
Mobilize the community for improved health
Respond to barriers to health-related behavior change at community level
Assist with communication to and from the health system and the local administration
Advocate around issues leading to improved health systems
COMM Resource Page on wvi.org (you can share with external peers): http://www.wvi.org/health/community-committees
Covered in this webinar: 
Introduction 
COMM Model Update - Where are we with COMM in 2016?  Development of the COMM-AIM Tool and the new COMM Publications.
COMM Implementation Experience - Kenya CHNIS COMM experience.  
COMM for Zika - Guatemala's experience incorporating Zika preparedness and response into COMM Model.  
Questions/Discussions. 

Webinar Recordings (5 May 2016):

Webstream Version: https://wvi.webex.com/wvi/ldr.php?RCID=e58ae898491c3e60fae81a8c1c4e80d6

Download Version: https://wvi.webex.com/wvi/lsr.php?RCID=8a15260358712fc5f1d03cc927bdd095


Webinar Presentations:
Thank you to our speakers:
For information on our upcoming webinars, click HERE.