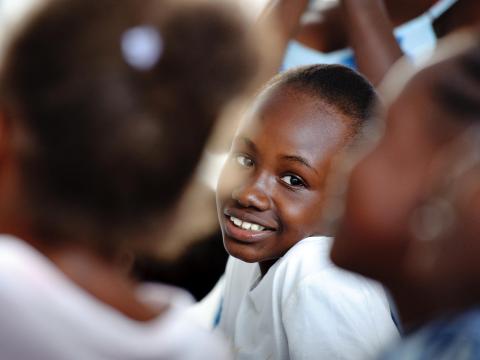 Vouchers energise despite devastating drought
Hundreds of thousands of people are facing hunger as an El Niño-related drought takes its toll in the Island of La Gonave, Haiti. To reduce its impact, World Vision Haiti with the support of USAID, is distributing vouchers used to purchase food to enhance nutrition of the most vulnerable children and families.
READ MORE
Haiti
World Vision is committed to partnering with the people of Haiti to rebuild their lives today and to help enact sustainable solutions for the future of their children, families, and communities. World Vision's child sponsorship program plays a vital role in this partnership. In addition to sponsorship, World Vision operates other programs that benefit communities in Haiti. Highlights include:
Improving children's learning environment in primary schools, focusing on repairing school buildings, increasing parent involvement, educating teachers, and providing teachers and children with supplies.
Training farmers in small-scale vegetable production and providing them with access to tools and seeds, which gives farmers the chance to supply their families with nutritious food, and generate an income through sales at local markets.
Working to reduce food insecurity in vulnerable households. This program provides farmers with training in sustainable agriculture and improved access to health clinics.
Continuing earthquake relief efforts and developing a long-term strategy to help rebuild Port-au-Prince.
Our Impact in Haiti
11 million
Population, total
Port-au-Prince
Capital City
8.4 billion
GDP (current US$)