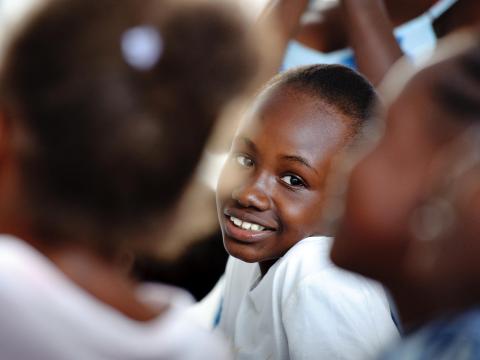 Vouchers energise despite devastating drought
Hundreds of thousands of people are facing hunger as an El Niño-related drought takes its toll in the Island of La Gonave, Haiti. To reduce its impact, World Vision Haiti with the support of USAID, is distributing vouchers used to purchase food to enhance nutrition of the most vulnerable children and families.
READ MORE
Haiti
World Vision is committed to partnering with the people of Haiti to rebuild their lives today and to help enact sustainable solutions for the future of their children, families, and communities. World Vision's child sponsorship program plays a vital role in this partnership. In addition to sponsorship, World Vision operates other programs that benefit communities in Haiti.
Through the generosity of donors from around the world, 56,000 children were sponsored
WVIH dewormed more than 521,960  school-age children, through several school de-worming campaigns. And 51,116 under five children were also provided with Vitamin A supplement
More than 222,000 people now have access to protected drinking water 
66,600 school students had access to a hot meal when they went to school contributing to the school retention rate, as well as improved academic performance
13,207 people (including families, children, Community Based Organizations) were sensitized on positive discipline method
6,100  families were able to see improvement in their agricultural productions due to distribution of improved seed variety
Our Impact in Haiti
11 million
Population, total
Port-au-Prince
Capital City
8.4 billion
GDP (current US$)