Niger
Poverty, which affects a large majority of Nigeriens, has serious repercussions on children's access to healthy food, financial resources, health services and education.
The lack of access to healthy food is the main reason for the high level of malnutrition which affects children in both rural and urban areas of Niger. Inadequate diets lead to underweight children and major development problems. Many children in Niger suffer from micro-nutritional deficiencies and disorders due to a lack of iodine.
At World Vision, we used a community-based approach to address the root causes of issues affecting children. Key sectors of our work include Child Protection, WASH, education, and nutrition. Gender, advocacy, faith and development are cross-cutting elements in all our work. 
23.3 million
Population, total
12.9 billion
GDP (current US$)
Latest Videos
Highlights of our work with partners to transform the life stories of vulnerable children and communities
Our Work
See how we are working to improve the well-being of children in Niger.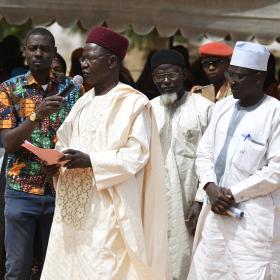 Ending Violence with Education
Niger is one of the countries in the world most affected by violence against children. One of the most devastating is child marriage. Despite the efforts of the Government of Niger and its partners, the prevalence rate of child marriage has changed little in the last 20 years. At last check, in 2012, 76% of girls were married before they turned 18. Although there are many social, cultural and economic reasons it happens, we believe it must stop.