Your contribution to World Vision Child Sponsorship is critical in helping us address and respond to root causes of poverty and injustice through long-term partnerships with communities.
Over 3.4 million children sponsored in 2019
The Impact of Sponsorship
Because of our community-focused solutions, for every child you help, 4 more children benefit too.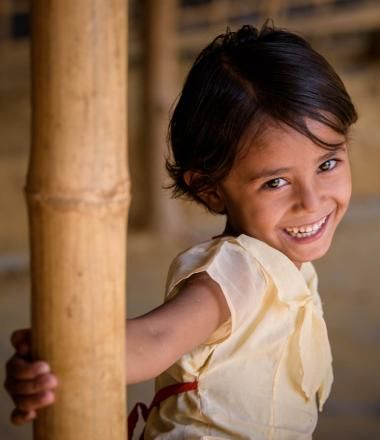 Change a Child's Life
Note: You will be redirected to your country's support office to complete the sponsorship process.
Frequently Asked Questions
Why should I sponsor a child through World Vision?
Because together, we can make a real difference! If you're considering sponsorship, you already want to help change lives. Sponsorship makes it possible for you to give vulnerable children fuller lives and better futures. You'll see the transformation for yourself through regular updates while you build an enjoyable personal connection with a child who needs you.
How is my sponsorship donation used?
Your donations are used to meet the greatest needs of your sponsored child's community. It could be safe water, nourishing food, better healthcare, or education. By donating, you also help keep children safe while getting them ready to participate in shaping their own future.
To effectively combat child vulnerability, it's important to deal with both symptoms and causes—your support is what enables us to overcome these barriers and help children reach their God-given potential.
How does my sponsored child benefit?
Your sponsored child will experience a fuller, happier, healthier and safer life.
Regular monitoring lets us check their progress and intervene appropriately when necessary.
Your messages bring them hope and happiness, and learning to read those messages increases their skills and builds confidence.
It's not only their physical safety—we provide the safe, nurturing space for them to explore, develop and grow spiritually.
Their hopes and dreams become a reality as they watch their community transform into a healthier and safer place.
What makes World Vision's approach unique?
We approach things differently, focusing on initiating change from the outside in. Forming long-term partnerships with everyone who impacts a child's life, whether it be members of their family, community, nation, the wider world, or generous sponsors like you. We also transform a child's world using an inside-out approach—empowering children at the grassroots level to be active participants and change makers in their own lives. This unique two-pronged approach has been proven to have an effective and long-lasting impact on vulnerable children, whether or not they are directly sponsored.
What does it mean to be a World Vision Child Sponsor?
Experience the joy of helping your sponsored child live a fuller, happier, healthier and safer life.
For every child you sponsor, four more children in the same area directly benefit, too
You can build a personal connection with a vulnerable child who really needs you, and even travel to visit them.
Throughout our partnership we provide frequent updates, photos, and videos so you can follow all the changes as they take place.
And, if you choose to, there are many ways for you to get involved and help improve the world for these children.
Will my sponsorship contributions go directly to one child?
Sponsored children do not receive direct cash benefits. While each World Vision Child Sponsor is connected with one child, we make the most of your donations by pooling funds to invest in long-term community development programmes to transform whole areas. By doing this we know that for every child you sponsor, four more children directly benefit too.
How are children chosen for sponsorship?
The families who receive our help are the ones who need it the most. Sponsored children are carefully chosen by people who know them best - local World Vision staff and their own community members. At World Vision respecting the rights of parents is important to us. That's why parents and caregivers are the only people who are allowed to register a child for sponsorship, and their involvement continues throughout all program participation.
What does my sponsorship mean to my sponsored child?
As a sponsor, a child's hope, happiness, and confidence is in your hands: your help provides a better life and transforms their future in ways they didn't think possible.
What is World Vision Child Sponsorship?
Your participation in World Vision's Child Sponsorship program is essential to granting children, families and entire communities a path to a better future.
Our proven, unique approach is fueled by your sponsorship. Your help enables us to provide positive, lasting impact to communities by focusing on the root causes of poverty and injustice.
How does World Vision Child Sponsorship work?
First, parents and caregivers in World Vision programme areas register children to be sponsored. Then World Vision connects you with a child who needs your help. As that child's only sponsor, you will have many opportunities to build a relationship with them.
Your monthly donations become part of a powerful collective fund capable of permanently transforming your sponsored child's community into a place that offers them the future they deserve.
We empower communities and guide them to set their own goals and equip them so that progress made is sustained, and continued, long after we've left.