Ethiopia
Ethiopia is one of the fastest growing economies of the world, with annual growth of 10% on average for the last 11 consecutive years. The current population is estimated at over 100 million; more than half of whom are youth.
Despite the current economic advances, recurrent drought with erratic annual rainfall, traditional ways of farming and unstable political and economic conditions remain a challenge for many families. Still today, nearly 36 million children in Ethiopia are poor and lack access to basic social services.
In Ethiopia, World Vision works together and alongside the governmental and non-governmental actors in an effort to improve the well-being of the most vulnerable children and their families to ensure all children have the opportunity to thrive. 
108.2 million
Population, total
81.8 billion
GDP (current US$)
Latest Videos
Learn more about the work World Vision is doing in Ethiopia.
Our Work
Learn more about the different areas of our work in the pages below: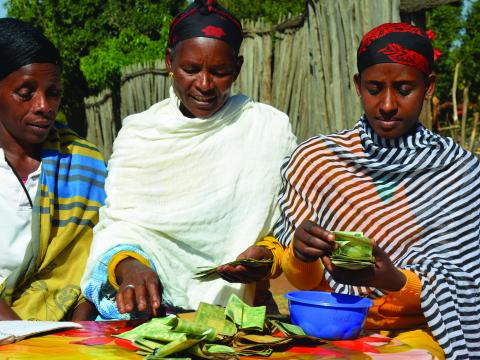 Saving for Transformation
In Ethiopia, 85% of the population lives in rural areas where financial services are scarce. Village saving and loan associations (a group of 10-20 self-selected individuals who agree to save a certain amount of money each week and loan to each other when the need arises) are one way of addressing financial constraints and food security issues. Currently, there are more than 75,000 families helping each other through 3,847 savings groups.
Running with Purpose
Nearly 100 World Vision Ethiopia staff, including the National Director, Mr. Edward Brown, took part in the 18th Ethiopian Great Run: a 10 km run, advocating for the end of child marriage in Ethiopia.
This year's run, themed: "Empower Girls Now; they are the next leaders!" had more than 45,000 participants.
"We can run fast alone but we can run far together," said Mr. Brown after finishing the run, emphasizing the importance of working together.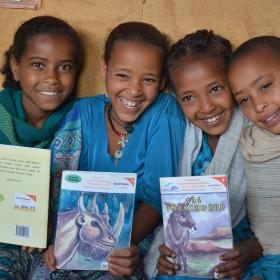 It Takes a World
it end child marriage
Ethiopia is known as a hotspot for child marriage. Our teams have been implementing various proj­ects to address the root causes of child marriage.