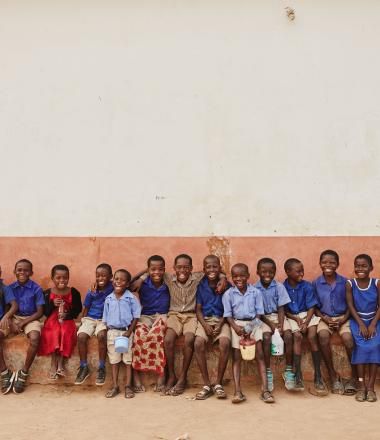 World Vision International coordinates more than 33,000 staff members in nearly 100 countries. Our Staff shepherd funds from more than 10 million generous supporters into programmes that serve over 100 million vulnerable children and their families.
World Vision consists of numerous national offices around the world that work together towards one vision: life in all its fullness for every child.  We refer to all World Vision offices together as "the World Vision Partnership" (though it is not a partnership in a legal sense).
Established in 1977, World Vision International provides global coordination for the Partnership and ensures that global standards and policies are pursued and serves as the implementing entity in several countries. Our global coordination functions are referred to as "the Global Centre." Staff in the Global Centre work in offices around the world, with the President and many senior executives located near London.
Our support offices fundraise to support World Vision programmes all over the world. Our programmes are implemented locally by field offices that coordinate local agencies and community members, inspiring them to come alongside and experience the joy of transforming vulnerable children's life stories.
World Vision International's board of directors set Partnership standards and its body of members (the Council) is our highest governing authority for fundamental decisions. Many support offices and field offices also have their own national governing body.
World Vision International is incorporated as a religious non-profit corporation under the laws of the State of California, USA, and has been recognised as a tax-exempt organisation by the relevant United States tax authorities (and by such authorities in other countries).
Structure FAQs
Where are World Vision offices located?
World Vision has offices in nearly 100 countries across the world. Global Centre has headquarters in the United States and United Kingdom. For a complete list of our offices, please see this page.
What is the World Vision Partnership?
The World Vision "Partnership" of national offices, many of which are governed by their own boards, is bound together in interdependence through a common mission statement and shared core values. By signing the Covenant of Partnership, each office agrees to abide by common policies and standards. National offices hold each other accountable through a system of peer review. Each office, regardless of the size of its programmes, has a voice in the Partnership.
What is The International Board and Council?
The World Vision International (WVI) Board meets in full twice a year, appoints WVI's chief executive, approves strategic plans and budgets and determines international policy. Andrew Morley is the international president and chief executive officer. WVI's Council, comprised of the International Board and representatives of each national office board or advisory council, meets every three years, and has the authority to change fundamental elements of the Partnership structure and mission.
How are National Boards and Advisory Councils Comprised?
National boards and Advisory Councils comprise business professionals along with church and social service leaders and others. The boards govern the work of many national offices, where most operational decisions are made, within the framework of Partnership standards.