Timor–Leste
1.2 million
Population, total
1.6 billion
GDP (current US$)
World Vision Timor-Leste began its first project in Aileu municipality in 1995. In 1999, World Vision opened its national office in Dili. Today, we have three Area Programs implementing projects in four municipalities: Aileu, Baucau, Bobonaro and Covalima.
Our mission is 'Healthy children for strong communities'. We recognise that children's health is holistic in nature, including their physical, mental, intellectual and social wellbeing. We aim to empower Timorese children to transform their lives, in partnership with their families and communities.
Our three strategic areas are:
Ensure children enjoy good health, safe water and improved sanitation

Reduce violence against women and children

Enhance community resilience and livelihoods
Better Food Better Health Project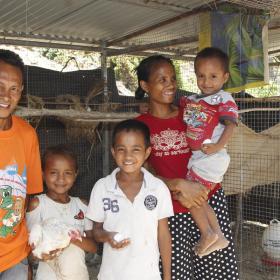 Alarico on the frontline of healthcare
IMPROVED NUTRITION
For many families in rural Timor-Leste, the closest health facility is a two hour walk away. When children get sick, parents often have to rely on the health volunteer that lives in their community.
Community health volunteers are on the frontline of healthcare in Timor-Leste. Alarico, a 36-year-old father of three from Covalima, is one of them.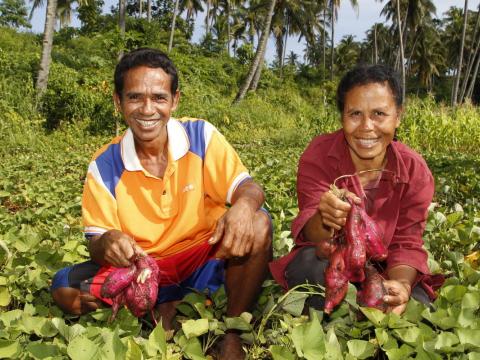 GALLERY
Planting seeds of hope
"In the past, I didn't understand what nutritious foods are and was not trained on how to produce and prepare good and nutritious food for my family to eat," Francisca said.
When Francisca and her husband Fernando joined a farmers group, they learned agricultural techniques to help them grow nutritious local foods, like orange sweet potato. Their group is supported by the TOMAK (To'os ba Moris Di'ak) Farming for Prosperity project.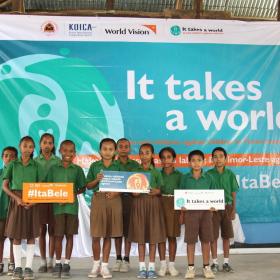 It Takes Us All
To End Violence Against Children in Timor-Leste
Seven out of ten children in Timor-Leste are affected by physical and sexual violence at home. We must act now to end violence against children.
Take action if there are concerns about a child or World Vision staffAD
In all World Vision programmes we have mechanisms to enable communities, beneficiaries and staff to report potential cases of abuse. 
Learn more about our commitment to safeguard all participants in our work: www.wvi.org/safeguarding
If you have any concerns about abuse of children or other vulnerable groups in World Vision's operations or concern about World Vision staff, you can report confidentially via:
worldvision.ethicspoint.com or via wvtl.safeguarding@wvi.org