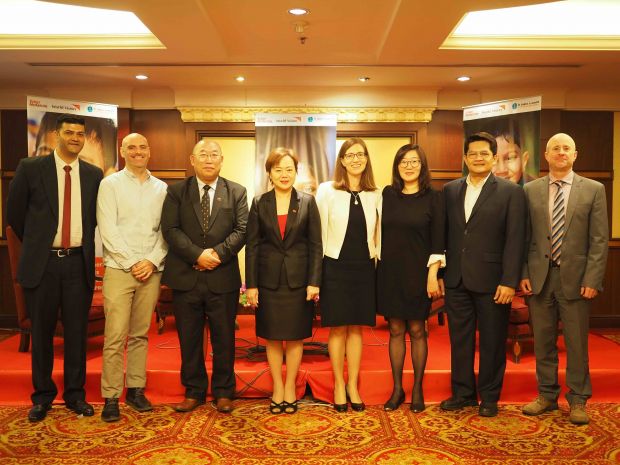 Bangkok, Thailand (28 March 2019) – World Vision and Baker McKenzie hosted a partnership event on 27th March 2019 at Prince Palace Hotel, Bangkok, Thailand, calling upon the private sector to work together in ending violence against children.
Close to 40 participants including high profile civil society actors, child protection & child rights experts, representatives of UN & government agencies, youth advocates and the private sector participated in the event, which featured a panel discussion to highlight how partnerships between private enterprises and civil society can work together to achieve the UN Sustainable Development Goals including the target of ending violence against children.
Deepesh Paul Thakur, World Vision's Asia Pacific Advocacy and External Engagement Director and the facilitator for the event opened the panel discussion by challenging the agencies to unite. "I have witnessed the power of multi-sector collaboration to address issues related to addressing violence against children. Private sectors, government and civil society each bring their capabilities, strengths, perspective and experience to address any social issues. Harnessing on strengths of each entities results in accelerating efforts to resolve these issues."
Dr Rinchen Chophel, Director General of the South Asia Initiative to End Violence Against Children says, "The issue of ending violence against children should not be left to the UN or its partners around the world. We need to bring in legislative efforts. This task lies in the private sector as well, which can bring a new perspective and take the issue down to people who actually would make a difference."
Kate Gillingham, Baker McKenzie's Pro Bono Counsel, pointed out that "Baker McKenzie is committed to working to achieve an end to violence against children (Sustainable Development Goal 16.2). By collaborating with World Vision and our corporate clients we are able to utilise each organisation's expertise to maximize our collective impact".
"On behalf of 3M, I had the honour of attending the joint partnership event. It brought together companies and organizations to discuss the important topic of social responsibility to improve the lives of the children and people in the community. I'm proud of the pro bono work of the 3M APAC legal affairs team for World Vision's campaign to end violence against children," says Napaporn Ratanasaenghirun, Managing Director 3M Thailand.
The event recognised the months of collaboration by the parties, which culminated in the production of the first legal guide that addresses the rights, remedies and protection available to victims of child trafficking. Baker McKenzie partnered with its clients, State Street and 3M in the development of the contents.
Bee Leay Teo, Corporate Social Responsibility Partner of Baker McKenzie, mentioned that "Inviting our corporate clients to join the project serves as an innovative way of aligning our own CSR objectives with those of our corporate partners and the UN's Sustainable Development Goals."
Early last year, World Vision and Baker McKenzie launched a pro bono partnership in support of World Vision's five-year global campaign, "It Takes A World to End Violence Against Children." The cooperation includes the production of six legal guides that will empower local communities and social workers to end violence against children.
World Vision is currently rolling out the "It takes a world to end violence against children" campaign with partners across 17 Asian countries with a focus on ending child marriage, sexual abuse, child trafficking, child labour, physical violence in schools and the home, and corporal punishment. Participating countries include Bangladesh, Cambodia, China, Myanmar, Mongolia, India, Indonesia, Nepal, Philippines, Sri Lanka, Thailand, and Vietnam.
For media interviews, contact:

Crislyn Joy F. Dacut
Regional Public Engagement Manager
Asia Pacific | World Vision International
Email: crislyn_felisilda@wvi.org
Phone: +639178036974
John McGuinness
Associate Director, Communications
Baker McKenzie
E-mail: john.mcguinness@bakermckenzie.com
Phone: +65 6434 2264
About World Vision
World Vision is a Christian relief, development and advocacy organisation dedicated to working with children, families and communities to overcome poverty and injustice. In the Asia Pacific region, World Vision works in 18 countries in nearly 1000 programmes and projects. We serve 1.2 million children who are sponsored by donors, along with their families and communities. (www.worldvision.org)
About Baker McKenzie
Baker McKenzie helps clients overcome the challenges of competing in the global economy. We solve complex legal problems across borders and practice areas. Our unique culture, developed over 65 years, enables our 13,000 people to understand local markets and navigate multiple jurisdictions, working together as trusted colleagues and friends to instill confidence in our clients. (www.bakermckenzie.com)