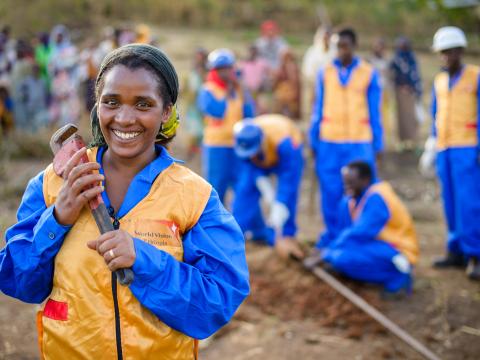 Approaches and Interventions
While every person on the planet needs clean water, dignified sanitation and healthy hygiene practices, there are a variety of approaches and interventions that can be taken to help communities have safe, convenient, reliable and sustainable WASH facilities and services.
Below is a thorough (though by no means exhaustive) list of the types of approaches and interventions World Vision utilises in our WASH programmes. Some are used in every WASH programme (such as social inclusion and monitoring and evaluation). Others are more specific to the context in which we work. When you click an item on the list, it will take you to a brief description of that intervention. 

BABYWASH 
World Vision is developing an integrated approach between WASH; maternal, newborn and child health; nutrition; and early childhood development to promote child well-being in the critical first 1000 days. This approach is based in a growing body of evidence that poor WASH practices have numerous impacts on maternal and child health outcomes, and thus recommends interventions at the household and health facility level.

BUSINESS DEVELOPMENT AND MICROFINANCE 
The development of local businesses is essential to ensure the sustainability of water, sanitation and hygiene services. Local businesses and entrepreneurs provide key support ensuring necessary supplies are available, providing maintenance of infrastructure, and opening the doors of possibility for locally adapted innovation. Approaches like Village Savings and Loan Associations (VSLA) help harness local resources to invest in WASH businesses, and microfinance is providing jobs and funding for local WASH entrepreneurship. World Vision has also found success using microfinance and business development opportunities in WASH through the construction and maintenance of water points, construction of sanitation facilities, and promotion of household water treatment products, soap and hand washing tools.

COMMUNITY-LED TOTAL SANITATION 
Community-led total sanitation (CLTS) is an approach that engages the community in recognising areas where open defecation occurs and taking their own actions to become totally free of open defecation – including the faeces of children under 2. CLTS helps households achieve basic sanitation coverage as quickly as possible. This includes helping households to construct their own latrines and other aspects of environmental sanitation, including integrated solid waste and wastewater management. CLTS can be applied along with another model, sanitation marketing. CLTS helps create demand for sanitation products and services, and sanitation marketing helps strengthen the local sanitation supply chain to meet the demand.

COMMUNITY-LED URBAN ENVIRONMENTAL SANITATION
Access to improved toilet facilities alone will not solve the world's sanitation challenge. The suitable collection, transportation, treatment and reuse/disposal of faecal sludge will be critical for future sanitation planning. Community-led urban environmental sanitation suggests that communities, local government, NGOs, research institutions and international actors all have roles to play in urban sanitation planning and management.

Disability inclusive WASH
According to the World Health Organization, approximately 15 per cent of people have some kind of disability, making people with disabilities the largest minority group on the planet. Disability inclusive WASH is water, sanitation and hygiene that is available, affordable, dignified and accessible to people with disabilities. People with disabilities represent some of the most vulnerable in communities because of social stigma, inaccessibility, marginalisation and discrimination. Because World Vision often begins its work in communities with WASH projects, World Vision recognises that WASH projects must be disability inclusive to: achieve the basic human right to water and sanitation, reach the most vulnerable, and set the tone for inclusion in other community-based projects to increase access. Disability inclusive WASH safeguards the inclusion of people with disabilities and frequently paves the way for inclusion in other parts of society as well.

FAITH ENGAGEMENT 
We believe that our WASH work serves as a discernable demonstration of God's love for both communities and individuals. Most communities where World Vision works are very religious, and we believe that effective faith engagement in these contexts also plays a key part in the success of our WASH programmes. As a faith-based organisation, we are uniquely positioned to effectively engage local faith leaders -- who are often the most influential actors in communities. World Vision works with faith leaders in communities to educate and mobilise communities for WASH. In interfaith contexts, this often means bringing together faith leaders from different faiths to work toward the common goal of healthier communities.
Learn more about faith engagement

HOUSEHOLD WATER QUALITY 
World Vision ensures that water provided to communities for domestic uses is safe. For that to occur, every water point is sampled, tested for physico-chemical and bacteriological compliance with country standards or WHO guidelines. Contaminated water is treated using adapted and easy-to-use technologies (such as the MSR SE200 Electrochlorinator) and communities are trained on water treatment techniques.
Even if water supplied is of good quality, research and experience have demonstrated that quality issues are still recurrent if water is collected and stored unsafely. World Vision addresses this issue by not only promoting household water treatment, but water safe transportation and safe storage in the household. This calls for adapted water storage and removal practices. Quality compliance at source and at point of use is key for assuring good health and contributes to the well-being of children and families.
Learn more about household water quality

HYGIENE BEHAVIOUR CHANGE 
Increased awareness and knowledge about the importance of hygiene alone will not necessarily result in changed behaviours and practices. Intentional activities leading to behaviour change are required. World Vision utilises two tools to move people from knowledge to practice – the Designing for Behaviour Change Framework and the Barrier Analysis Survey. These tools help identify critical barriers and enabling factors to behaviour change and develop a practical plan to move a priority group toward sustained practice of a desired WASH-related behaviour.
Learn more about hygiene behavior change

INTEGRATED WATER RESOURCES MANAGEMENT 
Integrated water resources management (IWRM) is a sustainable approach seeking to address the socio-economic needs of all stakeholders in a watershed, preserving the environment and considering the needs of future generations. This is critical to the sustainability and resilience of rural communities.

Menstrual Hygiene Management
Menstrual hygiene enables women and girls to reach life's fullest potential and is a vital tool in keeping girls healthy and in school. Adolescent girls often miss school because of their menstrual cycle. Educating girls, boys, mothers, fathers, teachers and school officials is critical to assuring girls are supported during this season of development. School facilities need to be adequate to ensure girls have a clean and private way to take care of their menstrual hygiene needs. Menstrual Hygiene Management is a critical component of World Vision's WASH in Schools efforts. Learn more about menstrual hygiene.
Learn more about menstrual hygiene

MONITORING, EVALUATION and Learning
Establishing a robust and regular monitoring system will ensure issues are addressed early rather than towards the end of a project. The system works with stakeholders and the community to help with monitoring and documenting and respond to any changes reported throughout the project cycle, including changes in participation, decision-making, quality of life, capacity, respect and influence. Outputs and outcomes will be measured against standard global indicators and links with sub-national, national, regional and global monitoring systems and evidence captured is documented and shared through knowledge management systems.

NEGLECTED TROPICAL DISEASES
The neglected tropical diseases (NTDs) are a group of infections that put over a billion people at risk around the world. These include soil-transmitted helminths, schistosomiasis, trachoma, lymphatic filariasis, and river blindness. WASH contributes to the prevention and the management of most NTDs through the provision of safe water, the construction of sanitation facilities and hygiene behaviour change. Reducing levels of WASH-preventable NTDs not only improves health and alleviates suffering, but can also leads to improved educational outcomes for children and increased economic progress for communities and nations. Safe water available for personal hygiene and environmental sanitation reduces guinea worm diseases and soil transmitted helminthiasis, schistosomiasis, trachoma, and lymphatic filariasis. Reduced open defecation impacts soil transmitted helminthiasis as well.

SOCIAL INCLUSION 
Poverty alone is not a comprehensive marker of deprivation. Race, ethnicity, gender, religion, place of residence, disability status, age, HIV/AIDS status, sexual orientation or other stigmatised markers, confer disadvantage that excludes people from a range of processes and opportunities. Under the WASH programme, social inclusion aims to empower people to take advantage of WASH facilities and equal distribution of resources, ensuring people have a voice in decisions which affect their lives and enjoy equal access in society. World Vision has particular focus on disability and gender inclusion in WASH, as women and girls, and people with disabilities, are often on the margins of society and can benefit the most from inclusive WASH programmes.

SUSTAINABILITY AND EXIT PLAN 
From the start of a programme, a sustainability and exit plan with local authorities and communities is created to ensure clearly defined roles, responsibilities, ownership and accountability post-project/programme and to ensure the long-term sustainability of the improved WASH services. The critical foundation of sustainability is a functional WASH committee, which World Vision works to establish at the beginning of any WASH project. This committee plays the lead role in planning, implementing and decision making. A functioning WASH committee ensures post project sustainability. Community engagement contributes to the understanding of community priorities and defines the pathway in which the community and World Vision will work collaboratively. This includes clear understanding of the community's roles and responsibilities as owners, and the facilitation of their physical and financial participation, which is essential for maintenance and sustainability.
The exit plan and post programme development usually includes support from communities, religious leaders, technical services, local administration, municipalities and other partners. These key resources help to ensure the continuity of actions/services after the end of the programme.

URBAN WASH 
While urban water poses a challenge in all urban contexts, it is especially complex in urban and peri-urban slums. Improving the water, sanitation, hygiene, solid waste and drainage of urban communities significantly reduces the burden of disease within a community, results in overall health and nutrition improvements, and increases opportunities for education and economic participation. Playing a brokering and relationship development role between communities and service providers, NGOs bring a significant value addition to the planning, implementation, execution and long-term viability of urban WASH development.

WASH Away from the home
When World Vision works with communities, they consider water uses beyond basic household consumption, working with health care facilities and schools to ensure these critical community structures have easy access to safe, clean water, sanitation facilities and hygiene improvement. According to a recent multi-country review by the World Health Organization from 54 low- and middle-income countries, 38 percent of health care facilities lack access to even rudimentary levels of water, 19 percent lack sanitation and 35 percent do not have water and soap for hand washing. The situation significantly worsens when looking for a higher standard of WASH coverage. Rural health care facilities are much worse off compared to districts and referral hospitals. World Vision is reversing this tendency by providing safe water, sanitation, and hand-hygiene options in health care facilities; building the capacity of health care facilitates stakeholders to operate and maintain long-term safe and sustainable WASH services in health care facilities; and strengthening the enabling environment for sustainability.
World Vision's WASH work in schools involves the construction of facilities and training community resource people from schools and health institutions who spearhead school sanitation and hygiene programmes. This work helps to improve access to safe drinking water, sanitation and hygiene in schools and help reduce diarrhoeal and respiratory diseases among schoolchildren. These students also help as agents of change to reinforce good hygiene and sanitation behaviours at home. Through key partners like Sesame Workshop, World Vision provides fun and educational resources to teachers and students to promote important hygiene behaviours.
Learn more about WASH away from the home

WASH IN EMERGENCIES 
No country is immune to disaster, both man-made and natural. In practically every emergency, water, sanitation and hygiene are critical first responses to help protect people from disease outbreaks and other risks that arise from lack of access to clean water and safe sanitation. When World Vision responds to an emergency, one of the first activities is ensuring those affected have clean drinking water and access to sanitation. This is first done by providing stop-gap measures, such as bottled water or water purification packets and hygiene kits. Over time, as those affected become more stabilised in their own communities, temporary dwellings or camps, World Vision works to ensure a more sustainable water supply and sanitation facilities are available and accessible.
Learn more about WASH in emergencies

WASH IN FRAGILE CONTEXTS 
Fragile contexts require a different approach to WASH than in more stable contexts. In fragile contexts, government structures are weakened and unreliable, and may lack the capacity or authority to own, monitor and maintain WASH infrastructure. This leaves citizens even more vulnerable to a variety of shocks. World Vision works in fragile contexts to help build up community resilience and community capacity. In WASH, resilience is built in a variety of ways, including access to safe water, promotion of hygiene behaviour, and education on proper household water treatment.

WATER SUPPLY 
World Vision believes every child deserves clean water. Our goal is to support governments and communities where we work to achieve universal coverage in access to water facilities and services, supporting the establishment of long-lasting water supply systems. A 2010 independent study carried out in Ghana found that eight in ten wells installed by World Vision are still operational up to 20 years after they were built.
Once basic water supply needs are met, World Vision works with communities to bring water closer to households by installing mechanised water pumping systems and networks of pipes. We also work to ensure schools and health care facilities have access to water on site. When feasible, we also construct rain water harvesting systems, protected spring catchment systems, and harnessing surface water from perennial rivers. We work to rehabilitate pre-existing boreholes that have broken down, and we ensure water quality through comprehensive water quality testing. We also promote water treatment technologies, both at the source and in the household.

Learn about how WASH contributes to child well-being, here.