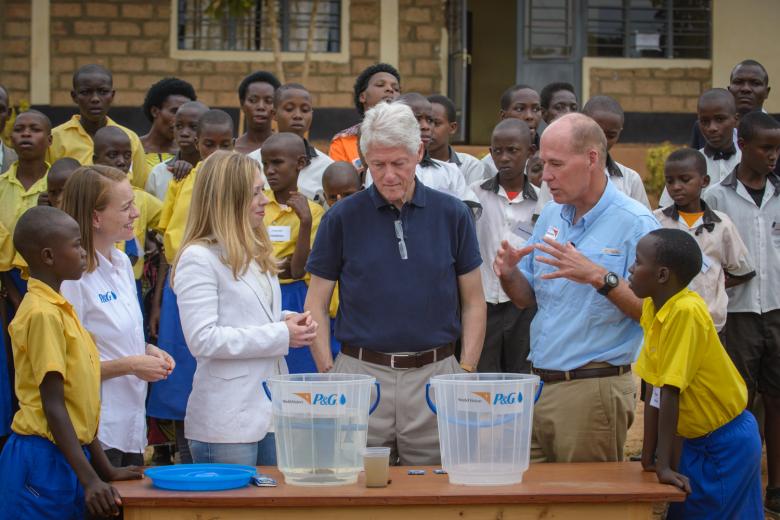 Clintons see how clean water saves lives
Monday, August 5, 2013
Through the eyes of children, parents and teachers, former U.S. President Bill Clinton and Chelsea Clinton got a personal look at the toll of unsafe water, as part of his visit to Groupe Scholaire Camp Kanombe primary school in Kigali, Rwanda.
"Let me say how grateful I am to both P&G, one of the greatest companies in the world in terms of its responsibilities to society and building into their business model lifting lives of people, and to World Vision, one of the great treasures of NGOs, and the fact that they're doing this together means a lot to me," President Bill Clinton said.
UNICEF estimates nearly 2,000 children die every day from diarrhea – more than HIV/AIDS and malaria combined.
World Vision and Procter & Gamble are partnering to change that. During the President's visit, water experts demonstrated the P&G water purification packets. Within 30 minutes the small packet transforms brown, dirty, and dangerous water, making it safe for drinking.
"It's one of the simplest things we can do to save lives," President Clinton said.
"It's more than just a transformation of the water – it's life-saving work," said World Vision Vice President of Water and founder of the P&G Children's Safe Drinking Water Program, Dr. Greg Allgood. "There is nothing like seeing the look in a mother's eyes when clean water means she no longer has to make the agonizing choice of giving her children water that she knows could make them sick. With partners P&G and many others, World Vision is doing that work on a large scale through the Clinton Global Initiative Commitment to Action – providing clean drinking water to a person every 30 seconds, impacting hundreds of thousands of children each year."
During the visit President and Chelsea Clinton were able to talk with rural children and community members from Ntarama to learn the challenges of not having clean, easily accessible water. World Vision plans to provide 90 percent access to safe water supply by 2016 in the areas where the organization works in Rwanda. 
Earlier this year, Chelsea Clinton visited Myanmar to witness P&G's 6 billionth cup of clean water. She's pictured here with children who were benefitting from the clean water. 
World Vision is using key corporate and private donor partnerships, like P&G, as well as innovative thinking and new technology to dramatically increase the speed and scope of its water work. In just the last two years, World Vision had increased 4-5 times its capacity to provide clean water in the developing world, making it the largest non-profit non-governmental provider of clean water in rural areas worldwide. The scaling up is part of World Vision's Campaign 'For Every Child'.  Through the campaign, World Vision will reach more than 6 million people with clean water, spending $400 million in a five-year period. Water is one critical element of World Vision's comprehensive, holistic development program. 
... lives change when you bring clean water into a community.
"Our staff has seen firsthand how lives change when you bring clean water into a community," said George Gitau, national director of World Vision in Rwanda. "It's an immediate impact – the number of child deaths and malnutrition drop, the number of girls able to attend school rises and we see more women able to participate in the economy, freed from the time-consuming and back-breaking work of fetching water."
The Clinton's visit creates momentum for the launch of the social media campaign "Flash Flood for Good" at the Clinton Global Initiative on September 24. "Flash Flood for Good" is a campaign that allows people to join in via Facebook and Twitter to raise awareness for the life-saving impact of clean water. The funds raised by that effort will help the school children in this village and many more in Rwanda as well as in World Vision programs in Myanmar and Ethiopia.
For photos of Chelsea's historic visit to Myanmar, click here.