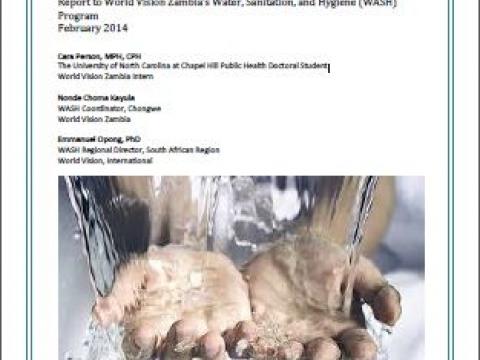 Perceptions and Barriers to Menstrual Hygiene Management in Zambia
Thursday, March 26, 2015
Aims
Menstrual hygiene management (MHM) is a major issue affecting the health and educational achievement of women and girls of reproductive age. This exploratory study sought to understand the barriers and perceptions of MHM throughout Zambia, in order to address the health and sanitation needs of women and girls. The findings of this study will be applied to World Vision Zambia's (WV Zambia's) inclusion of MHM in future WASH activities.
Methods
Interviews and focus groups were conducted in Southern (Choma), Northern (Kasama), and Central (Chongwe) regions in Zambia. Female students (older than age 12 who have reached puberty), male students (grades eight and nine), teachers, and sanitation, hygiene, and nutrition (SHN) coordinators were interviewed, as well as parents and community hygiene promoters (CHPs). A qualitative analysis identified key themes related to knowledge, practices, beliefs, and challenges related to MHM, and WV ZWASH program activities were reviewed.
Results/Conclusions
A total of 305 persons were interviewed. Findings demonstrated a need for resources, including emergency supplies for management of menstruation, improved facilities in schools, and an overall desire to educate girls and women in the community about MHM. Initial findings identified a discrepancy between the knowledge base of girls and the information reportedly taught in schools by teachers. The lack of knowledge about MHM, community support, and supplies contribute to school absenteeism, unhealthy MHM practices, and feelings of discomfort among schoolgirls.