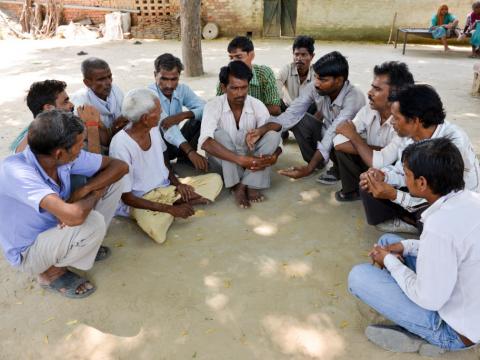 Step 2: Community Leaders Established
HOW A COMMUNITY GETS CLEAN WATER
Step 2: Community Leaders Established
Community leadership and ownership is facilitated by a committee of men and women from the community, nominated by community members.
This committee, with training and guidance from World Vision WASH and government staff, helps to determine the type of water intervention best suited to the community and the best locations for the water points.
World Vision WASH staff or government staff then conduct the necessary geophysical investigations within the area specified by the committee to locate the exact spot where the borehole or water system will be located.
The community then provides locally available materials, such as crushed rock and sand, for the construction of water and sanitation facilities.
Once a cluster of communities is ready, the drilling equipment is scheduled to move into the area to drill the boreholes one after the other.
While the drilling is under way, the community provides any unskilled labour and services as required, such as carrying pipes and other building supplies to the project site, providing security for the building materials, or providing accommodations and meals for out-of-town guests.