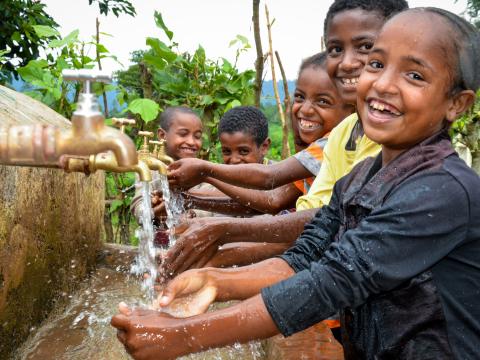 Webinar: Enhancing behaviour change programming with the science of habit
The theme for Global Handwashing Day 2016 is "Make Handwashing a Habit." What better time to invite a habit expert, Dr David Neal, to speak with us about the Science of Habit, and to have a discussion around the implications of this science on behaviour change activities (for handwashing and more)?
On Thursday, 20 October, Dr Neal joined us for a conversation about science- and research-based principles for creating better initiation and maintenance of handwashing change. We had a great time of Q&A, and Mary DeCoster, Food for the Hungry's Senior Specialist for Social and Behavioral Change Programs, reflected on how this science can strengthen our efforts to promote behaviour change.
LINK TO DR NEAL'S PRESENTATION
We've also started a discussion on the Sustainable Sanitation Alliance (SuSanA) discussion forum to carry this discussion forward. Add your thoughts and questions today! (An account is required, but it is free!)
Some great resources were shared during the webinar. You'll find some below.
VIDEOS
New Zealand driving commercial
PUBLICATIONS
Nudging and Habit Change for Open Defecation
The Science of Habit: Creating Disruptive and Sticky Behavior Change in Handwashing Bahavior
BEHAVIOUR CHANGE APPROACHES
Designing for Behaviour Change (DBC)
Barrier Analysis (used in DBC)
Learn more about World Vision's work in behaviour change. 
About David Neal, Ph.D.
David is the Managing Partner and Founder of Catalyst Behavioral Sciences - a research and consulting firm that specializes in applying psychology, cognitive science, behavioral economics and marketing sciences to understand and change consumer decision-making and behavior. He is also an Executive-in-Residence at Duke University Center for Advanced Hindsight.
David holds a Ph.D in psychology and has published extensively in the areas of behavior change, attitudes and motivational processes, and consumer and social decision making. In the commercial world, his background has emphasized health interventions, new product development, product defection and retention, and trademark litigation research.
David has particular expertise in the formation and change of consumer and health habits. He has published extensively on this topic, and consults to Fortune 100 companies and the US Government on methods for changing and forming habits.
David's research has been featured in a range of media outlets, including The New York Times, The Wall Street Journal, USA Today, Time Magazine, The LA Times, The Australian, The Independent, ABC News, Fox News, and MSNBC. He has also appeared on BBC radio, CBC radio in Canada, NPR in the US, German National Public Radio, and CBS News, among others.