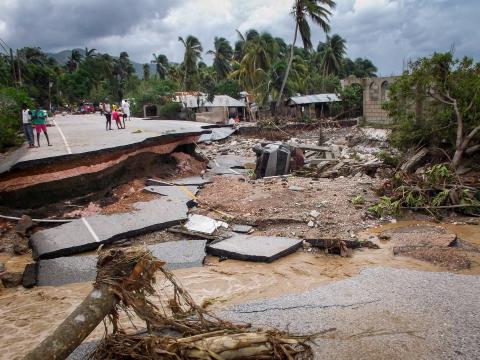 Planting seeds of hope among ruin
Tuesday, October 25, 2016
Crops & livelihoods decimated
The true devastation that Hurricane Matthew had on Haiti will only fully emerge with receding waters and time. What is clear is that the brutal destruction has crippled far more than homes, roads and infrastructure. According to local authorities over 500 people have perished, 2.1 million have been affected and 1.4 million of the most vulnerable are in need of immediate humanitarian assistance, 40 percent of whom are children.
An estimated 806,000 people are now food insecure and urgently require food assistance. In the hardest hit areas, at least 90 percent of crops have been destroyed, according to the UN Food and Agriculture Organization. For families and communities who largely rely on farming for their food and income, a hunger-free future is at risk.
John Hasse, the National Director of World Vision Haiti summed up the food security situation,
"In many of the new areas we reach, all of people's' food sources are gone and they don't have a lot stored."
Farmers and World Vision Haiti assess the damage of Hurricane Matthew
Food today, agriculture tomorrow
World Vision believes a hunger-free Haiti is possible and we are urgently working with farmers, fisher folk and families to make this a reality. In the immediate aftermath of the Hurricane, World Vision is providing hot meals, food baskets, vouchers and, where feasible, cash transfers. Additionally, our work will expand on Kore Lavi, an ongoing food security programme implemented by CARE, WFP, Action Contre la Faim alongside World Vision, with funding by USAID and the Government of Haiti.
"We work on providing meals to keep people from going hungry right now. Then as markets open back up, we'll be providing cash for them to buy the food they need. Looking ahead to the coming weeks we'll be helping people restore their ability to do agriculture through seeds and other assistance," explained Hasse.
Sharing meaningful meals
On the island of La Gonâve, World Vision has established community canteens to provide hot meals to approximately 4,375 beneficiaries. These canteens are expected to serve two hot meals per person per day to ensure they have the energy necessary to continue the recovery efforts. In the initial aftermath of a natural disaster, this type of food assistance is most needed, as key supplies for people to feed themselves such as cooking utensils, firewood and food are in short supply. World Vision is providing 15,000 kitchen kits, 45,500 jerry cans and 1.5 million aquatabs for purifying water. These utensils, along with other relief materials, will make cooking at home more manageable. This is when food, vouchers or cash will be distributed to the most vulnerable and food insecure children and families.
World Vision and partners will be providing emergency food baskets to 21,000 beneficiaries in Nippes, and to another 3,360 households in Saint Louis du Sud. The most vulnerable children, women and men will receive the following items in their monthly food baskets: 60 kilos of rice, 15 kilos of beans, 5.25 kilos of oil and 0.75 kilos of salt.
Clearing debris, boosting economy
Roads, marketplaces and neighborhoods are covered in debris. Beyond ensuring people's basic needs are met, clearing the debris and rebuilding infrastructure is critical to improving the ability to transport emergency supplies and getting the local economy back on its feet.
Men from St. Louis du Sud clear the road of fallen breadfruit trees
To support these efforts, World Vision and partners are planning to implement Cash for Work programmes to support nearly 5,000 farmers on La Gonâve. Cash for Work programmes provide able-bodied, disaster-affected community members with cash transfers so that they can help with debris clearing. The participants are then able to buy food, medicine and other essential household items, with the added benefit of boosting the local economy and businesses. Indeed, a recent study by UC Davis of a World Vision and World Food Programme cash transfer project in Rwanda saw the local economy boosted as much as $55 per refugee.
Additionally, World Vision is planning to provide cash and vouchers to 75,000 beneficiaries, assuming markets begin to function and funding is available. As of 19 October, the $119.8 million UN Flash Appeal is only 23 per cent funded, resulting in a $91.7 million humanitarian funding gap.
Maria and her family are now staying at a friends after their house collapsed 
For the many families who have lost their main source of livelihoods, the lack of cash or access to credit is having a crippling effect on their household budget. Maria, a single mother of three children and living in Boudain, explained the impact, "I lost the salt sacks I sell. I do that as a living and I also re-sell fish. Now, I have no money and I know the fishermen won't give me as much credit as I need, when I purchased with cash I could sell more. I am worried about my economy and my children. I want my children to go back to school."
For mothers like Maria, cash transfers can help guarantee food security for today and for tomorrow.
Planting seeds of hope
"Food and housing will be a big focus in the medium to long term. The whole idea is how do we help people restore their basic necessities – for example someone's living situation – and being able to do as much of that as possible in a short period of time," shared Hasse.
Banana tress and almost all other crops have been destroyed
As the winter planting season is less than a month away, agricultural recovery is critical. Unfortunately, the most affected and vulnerable families have severely limited access to immediate food, let alone to seeds and other agricultural inputs. World Vision and partners are gearing up to implement an agricultural recovery intervention aimed at supporting 75,000 beneficiaries with the tools and skills necessary for a hunger-free future.