This Global Health Community of Practice webinar presentation showcases a research study conducted in Uganda and Tanzania, through the Access - Infant and Maternal Health (AIM Health) Programme, to best understand:"How do Community Committees contribute to community capacity building for maternal and child health"? The Research Fellow, Brynne Gilmore (Centre for Global Health, Trinity College, Dublin) presents a brief overview of the Realist Evaluation methodology that guided this study, followed by a more detailed discussion of the findings in each context and the implications for future implementation of the Community Committees (COMM) model.
Webinar Recording: https://wvi.webex.com/wvi-en/ldr.php?RCID=f3a034d7b27bdfa87e260d35951da33e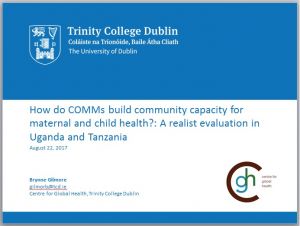 Thank you to our Speaker!