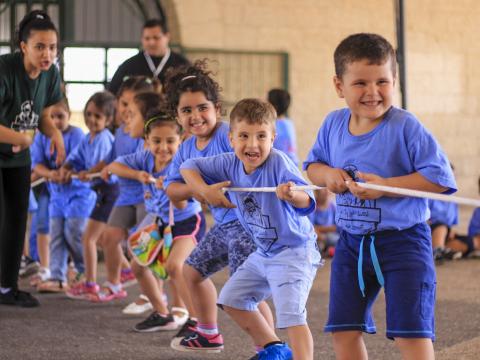 About Us
World Vision is a Christian, child-focused, community-empowering, international organisation that works in nearly 100 countries. We work with the poor and oppressed to promote human transformation, seek justice and bear witness to the good news of the Kingdom of God. Globally, we have impacted the lives of over 200 million vulnerable children by tackling the root causes of poverty.
World Vision began working for the well-being of children in Jerusalem, West Bank and Gaza in 1975 through development, relief and advocacy programmes. We work with predominantly private funding complemented by government grants from donors such as BMZ and Grand Challenge Canada, and bi-lateral grants from UN agencies, such as OCHA.
World Vision JWG has one of the largest community-based presence of any organisation operating in the West Bank. We work through 12 locations or area programmes (AP) in the West Bank, which directly support over 41,000 children participating in sponsorship programmes. The APs are located in Hebron, Bethlehem, Nablus, Salfit, Tubas, Ramallah and Jenin, and are served by 78 dedicated female and male staff. The operation covers 149 communities with a total annual budget of $8.8 million USD. Private funding gives us stability and enables us to build long-term relationships with families, communities, schools, municipalities, village councils, the Palestinian Authority, faith communities and other civil society actors.
Our goal is that boys and girls, in our areas of operation, have improved resilience, live in a nurturing environment and have hope for the future. The main focus of our 2020-23 strategy is to work toward this well-being of children by addressing key vulnerabilities, such as domestic and school violence, early marriage, low income, and low performance in school. We do so through programming in early childhood development, child protection and participation, youth resilience, education in emergency and faith in development.