As part of our contribution to making a significant impact on the well-being of children, World Vision is rolling out a five year global campaign to ending violence against children, in all its forms, in line with the Sustainable Development Goals (SDGs). The focus of World Vision's campaign in Kenya is to End Child Marriage, Female Genital Mutilation (FGM) and Sexual Violence.
What is Violence against Children?
World Vision defines violence against children as all forms of physical, sexual and mental violence, neglect or negligent treatment, maltreatment or exploitation, harm or abuse, including commercial sexual exploitation, trafficking, child labour, cyber abuse and harmful practices such as Female Genital Mutilation/Cutting and child marriage.

Strategies
To assist stakeholders intensify focus on prevention programmes and services, to end violence against children, World Vision guided by existing global evidence, is making the call for a more coordinated, comprehensive and multi-sectorial approach. We want to ensure that threats and vulnerabilities which children face in Kenya today, are eradicated. Our endorsement and recommendation to implement INSPIRE package below, will enhance the conversation in Kenya.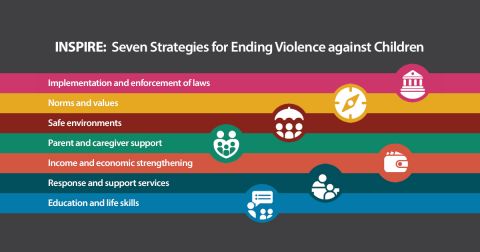 NOTE:
This package is a set of seven strategies (or solutions) to ending violence against children developed by experts and led by the World Health Organisation.