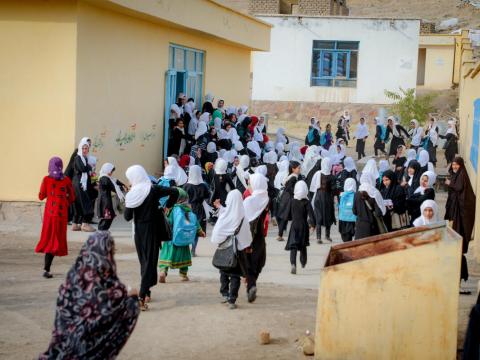 Girls Higher Education is a Must for Afghanistan Future
Thursday, March 24, 2022
World Vision is deeply concerned at the reversal of the Taliban's commitment to allow children regardless of their gender to attend school.
Education is a fundamental right for children including adolescent girls, which must be upheld.

World Vision is committed to promoting education for all children in Afghanistan and, to this end, appeal to those in authority not to deprive girls of their right to education.

World Vision calls on the international community to make girls' education a key condition in their engagement in Afghanistan.
Herat, 24 March 2022 – Secondary school-aged girls across Afghanistan are today reeling from the shock of being banned from returning to class, even though thousands of them were already going to school, says international humanitarian agency, World Vision.
The nationwide ban was suddenly enforced yesterday by the Taliban, impacting all secondary-aged girls across the country.  It means that in provinces where girls were already permitted to attend secondary schools – as well as other provinces where they were expecting to return to school for the first time after the winter break – girls are banned from the classroom.
Asuntha Charles, National Director of World Vision Afghanistan, said: "This is absolutely heartbreaking for girls. Girls were either expecting to return to secondary school after the winter break or hoping to go for the first time since the Taliban control of the country last August. But suddenly all secondary school girls were told they could not attend. We urge the country's leaders to swiftly reverse this decision and treat girls like their brothers who are all allowed to attend school."
In recent months, the Ministry of Education had stated that all girls and boys would be returning to school yesterday. But the decision was reversed and many girls only found out on arrival at their schools.
Ms Charles said: "It's a basic human right for girls to attend school and one that the international humanitarian community will continue to press the authorities to implement."
She said that prior to the decision to bar girls from 6th grade and above, provinces had a varied approach to girls' secondary education, with most provinces where World Vision works in the west of the country, permitting it.
She said she had met numerous girls who wanted to be doctors, teachers and leaders, and teachers who wanted to contribute to the development of Afghanistan. Many families had made immense sacrifices to ensure their daughters attended school, when otherwise they might be labouring or married off as children, or confined to home and managing the household.
Before the Taliban came to power, the country had made significant advances in educating girls. Four in 10 girls were in primary school, up from almost zero 20 years before. In 2018, 380,000 students were enrolled in higher education. Of these, 90,000 were girls. In 2001, only around 5,000 girls were in higher education.
Overview of World Vision
World Vision (WVA) has been working in Afghanistan since 2001 and is committed to #StayAndDeliver.  For 21 years WVA has worked to address massive life-saving humanitarian needs brought about by conflict, climate change and other disasters to around six million Afghans. WVA has worked to protect girls and boys, provided them with education, promoted better health and sanitation, and helped to build livelihoods.

For interview request or more information on World Visions activities and programming in Afghanistan, please connect with Communications Department:
Sally Tirtadihardja, Communications Manager
World Vision Afghanistan Complex Emergency Response (WV-ACER)