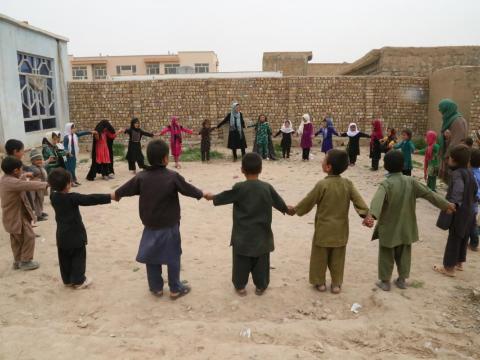 Time is running out for Afghan children who face starvation and need protection
Thursday, August 26, 2021
26th August, 2021 -  Children are nearing starvation because there isn't enough food, and funding for humanitarian relief is not getting through. That's the dire warning from aid agency World Vision today as it called on the international community to ensure that the survival of Afghan children is given absolute priority.
2.7 million people currently face starvation in Afghanistan and almost half of all children are at risk of acute malnutrition. Recent figures show that Afghanistan's 2021 Humanitarian Response Plan is only 39% funded, meaning US$786 million is still desperately needed to support over 18 million Afghans.  
Funding must urgently be released so that aid agencies can return to work and address the continuously worsening humanitarian situation in Afghanistan, said Asuntha Charles, World Vision Afghanistan National Director.  "Nothing should get in the way of saving children's lives," she said.
Andrew Morley, World Vision International President and CEO, said: "Every child dreams of nothing more than peace, an education, a nutritious meal and a chance to reach their God-given potential. Yet the reality on the ground is heart-breaking, amid the uncertainty over Afghanistan's future – especially for young girls, who are fearful of violence. We must continue to work together now, ensuring dignity and protection, and empowering every girl and boy in this beautiful country."  
World Vision has worked in Afghanistan for 20 years and believes that it is essential for all parties to continue to coordinate and establish a new way of working so that humanitarian workers can safely access and protect the most vulnerable children who desperately need our help now.
The child-focused organisation is committed to staying and will resume operations when there is agreement among all parties for safe and secure access to programmes, especially in relation to the safety of female humanitarian workers.  
"We are working night and day to navigate through this incredibly complex situation, including advocating to those in positions of power and influence over children's lives," said Ms Charles.
"We must act now together with partners and communities to prevent an unprecedented humanitarian disaster and to support the children of Afghanistan, their families and communities. Reversal of decades of progress is not an option and our commitment to stay and deliver life-saving support remains stronger than ever. We call on world leaders to provide much-needed sustained and flexible funds so that Afghan children who are at risk of starvation and in need of protection, will not be forgotten."
ENDS.  
Notes to editor:
For more information please contact:
Niamh Cooper |  Director of Media and Social Media Engagement | niamh_cooper@wvi.org | Skype: Niamh.cooper5 | Phone: +353 87 942 3371
World Vision is a Christian humanitarian organisation dedicated to working with children, families and their communities to reach their full potential by tackling the root causes of poverty and injustice. World Vision serves all people, regardless of religion, race, ethnicity or gender.  For more information, please visit www.wvi.org or follow us on Twitter @WorldVision