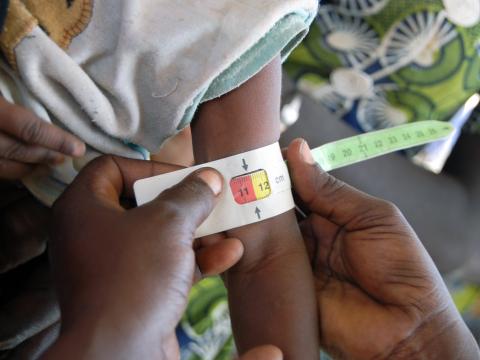 Webinar on use of mother-led MUAC screening in CMAM programming - 4 April 2017
Webinar in English: Tuesday 4 April 2017 at 12:00 noon to 13:15 UTC (08:00 to 09:15 EST)
Webinar in French/Webinaire en français: Tuesday 4 April 2017/mardi 4 avril 2017 14:00 - 15:15 UTC (10:00 - 11:15 EST). Click here to read in French/Cliquez ici pour lire en français.
Inscrivez-vous ici pour webinaire en francais!
Background
Involving mothers in nutrition screening activities recognizes the fact that they are best placed to identify early signs of malnutrition and reinforces their role in protecting and promoting their child's health. In 2011, the Alliance for International Medical Action (ALIMA) began studying the feasibility of training mothers to measure mid-upper arm circumference (MUAC) and detect oedema in Niger and in 2016 produced Guidelines for Trainers on the Mother-MUAC approach.
World Vision piloted this approach in Mauritania as part of an Emergency Nutrition and WASH program. This was the first time the approach had been used in Mauritania. Click here to read more and access resources and videos about this innovative approach.
Register for this webinar to learn more about Mother-MUAC research, guidelines, and World Vision's pilot experience in Mauritania.
Presenters
Kevin Phelan, Nutrition Advisor, ALIMA
Dèo Sibongwere, Medical Coordinator, ALIMA Niger
Judith Haase, Regional Nutrition Advisor, World Vision
Naroua Ousmane, Project Manager, World Vision Mauritania
Mohamadou Abass Ngaide, Health and Nutrition Coordinator, World Vision Mauritania
Colleen Emary, Senior Emergency Nutrition Advisor, World Vision International
Resources
Guidelines for Training of Trainers: Mother-MUAC: Teaching Mothers to Screen for Malnutrition (also available from ALIMA website)

ALIMA's Video: Mothers can do it: Screening Malnutrition in Niger (1:42)
ECHO Video: Combating Malnutrition in Niger: Mothers can do it (3:52)
Journal Articles: 
Alé FGB, Phelan KPQ et al (2016). Mothers screening for malnutrition by mid-upper arm circumference is non-inferior to community health workers: results from a large-scale pragmatic trial in rural Niger. Archives of Public Health.
Blackwell N et al (2015). Mothers understand and can do it: a comparison of mothers and community health workers determining mid-upper arm circumference in 102 children aged from 6 months to 5 years. Archives of Public Health. 
ENN Summary of Research: Mothers understand and can do it (MUAC). Field Exchange 50, August 2015. p18.