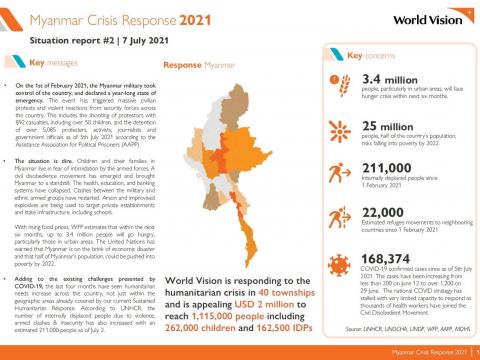 Myanmar Crisis Response Situation Report #2
Monday, July 12, 2021
World Vision is responding to the humanitarian crisis in 40 townships in Myanmar and aims reach 1,115,000 people including 262,000 children and 162,500 IDPs. We are providing life-saving services and goods to crisis-affected children, households and communities in Myanmar in order to reduce the impact of the deteriorating living conditions.
World Vision is deeply concerned about the impact of current surge in COVID-19 cases on children and communities, in Myanmar, already grappling with pre-existing vulnerabilities. The safety and well-being of children and the communities where we operate is our utmost priority. World Vision is present in the communities we serve, and will continue to stand with children to ensure that they receive the best possible level of support, within a limited INGO operating context.
The report is dated July 7, 2021.