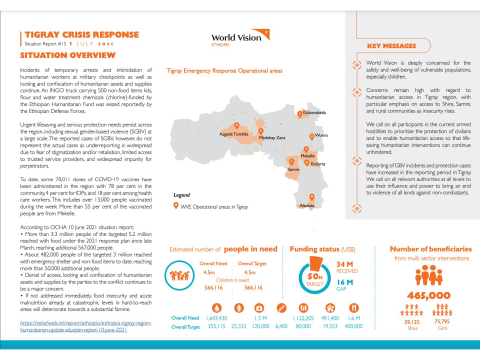 Tigray Crisis Humanitarian Response Situation Report #15
Thursday, July 1, 2021
World Vision is deeply concerned for the safety and well-being of vulnerable populations, especially children. Concerns remain high with regard to humanitarian access in Tigray region, with particular emphasis on access to Shire, Samre, and rural communities as insecurity rises. We call on all participants in the current armed hostilities to prioritise the protection of civilians and to enable humanitarian access so that lifesaving humanitarian interventions can continue unhindered.
World Vision adheres to the principles of humanitarian neutrality and neither participates in partisan politics, nor takes sides in conflict. Our focus and concern are on children and communities, based on humanitarian need. 
---
This report is dated Thursday July 1st 2021.