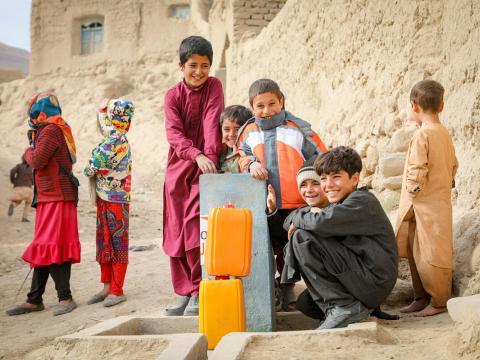 ECHO EXPERT (full or part-time position – 1-year contract located in Germany or Home Office, EU)
Thursday, January 6, 2022
World Vision has engaged in a new strategy towards the European Civil Protection and Humanitarian Aid Operations (DG ECHO), looking at building relationships and common understanding, positioning World Vision as a global and European humanitarian actor, as well as enhancing quality and volume of grants. In this context, World Vision is recruiting one full or parttime expert, who will accompany this challenging but exciting process by providing adequate expertise. In the framework of World Vision Global ambition and focus on fragile contexts, WV ECHO certified partners and other offices of the WV Partnership collaborate together. The objective of this collaboration is to reach more vulnerable children & growing grants in fragile contexts through increasing WV ECHO portfolio.
The position will be key to ensure World Vision becomes a key ECHO player and a trusted partner by ensuring compliance and adherence to ECHO key requirements and humanitarian standards. While working under the respective line management of an ECHO-certified WV offices, the expert will work within a coordinated structure pooling efforts and resources, in close collaboration with the WV EU Representation team.
What you can find:
You will find a dynamic international organization that promotes flexible working hours and flat hierarchies.   Moreover, WV promotes a cordial and respectful intercultural corporate culture shaped by Christian values.
Main Tasks:
Support the implementation of the ECHO organisational growth strategy

Develop and implement appropriate Work plan for successful implementation of Strategy

Capacitate WV Field Offices in accessing quality ECHO funding and ensure sustainable growth of the ECHO portfolio through transfer of knowledge.

Ensure key ECHO requirements are respected and institutionalized by the Field Office (e.g. needs assessments, ECHO policies, SPHERE standards, CHS).

Along with the ECHO specialist based in WV EUREP in Brussels, follow up and ensure implementation in the field of new ECHO policies and requirements.

Support WV in developing tools, methodologies and protocols for quality ECHO grants submission.

Contribute to World Vision's external engagement towards ECHO

Support WV for capacity-building measures (including formal and on the job training), in particular around grant acquisition aligning with DG ECHO policies and standards in humanitarian responses.

Support Capacity Building and Prepositioning for Field Offices

Support the establishment of the organisational Coordination mechanism (coordination with Support Offices, Field Offices, European Representation Office etc.) for ECHO strategy and actively participates in coordination mechanisms.

Leads relevant working groups to establish working protocols, tools and acquisition and management processes.
What you should have:
You are a communicative personality and would like to use your specialist knowledge, your experience and your commitment for our children's aid organization. You also stand out through the following experiences and properties:
Excellent knowledge of DG ECHO and EU Humanitarian environment.

Significant experience in ECHO project acquisition in the field/or HQ.  Experience in Management and grant compliance procedures is an advantage.

Demonstrate a minimum of 5 years of relevant working experience at national or international level in supporting humanitarian programs/project operations.

Good knowledge of Humanitarian Aid principles, policies and standards.

Coordination skills, allowing to bring together different stakeholders to achieve the envisioned objectives and ability to steer such processes

Ability to translate a strategy into a work plan.

Significant experience in training, capacity-building, and mentoring.

Strong interpersonal, negotiation and representational skills.

Strong written and spoken communication in English. French and/or Spanish is an asset.

Ability to travel frequently - the position requires ability and willingness to travel domestically (within Europe) and internationally (fragile contexts) up to 30% of the time.

Masters or BA degree in a relevant field
This is a full or part-time position.
Duration of the contract: one year
Locations: the position will be placed either in WV Germany office in Friedrichsdorf near Frankfurt, or as home office based. Potential home office within other EU countries is negotiable  
The contract will be done according to the labor legislation of the country where the candidate is posted.
To apply, please send your CV, motivation letter (with mention of intended start date and salary expectations), in German or English as well as preferred location post, to the following address: www.worldvision.de/jobportal (online application).