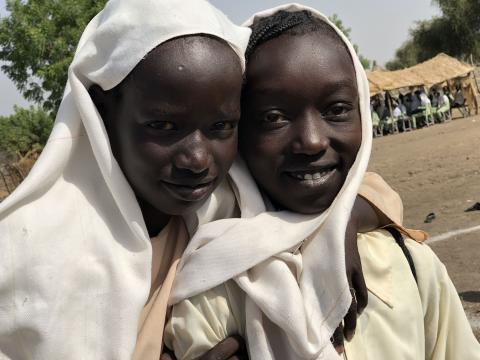 World Vision Sudan 2018 Annual Report
Wednesday, April 18, 2018
Hello supporters of World Vision in Sudan,
We are delighted to share with you some of our achievements over the period of 1 October of 2017 to 30 September 2018. Thanks to the collective effort of World Vision and its partners, that this was even remotely possible, to reach over a million people (over half of them children) across four states. 
In South Darfur, World Vision put a smile on a two-year-old named Taja when she visited nutrition clinic run by World Vision and upon completing her malnutrition treatment, she had gained her weight back and she was looking happier than before. 
In Blue Nile, southeast of Sudan, World Vision's Child Friendly Spaces afforded children from vulnerable households opportunities to express themselves through drawings, paintings, song and dance. When they were not learning the ABCs and counting numbers, the children were outdoor playing either on slides, skipping ropes, or just running around. 
Still in Blue Nile, 36-year-old Arafa, a mother of seven children shared with World Vision team who visited her, that she had gained financial independence through a vocational training project for women in her community.
These are just some of the stories that warmed our hearts over the financial year 2018 period and we truly are grateful. 
Shukran!