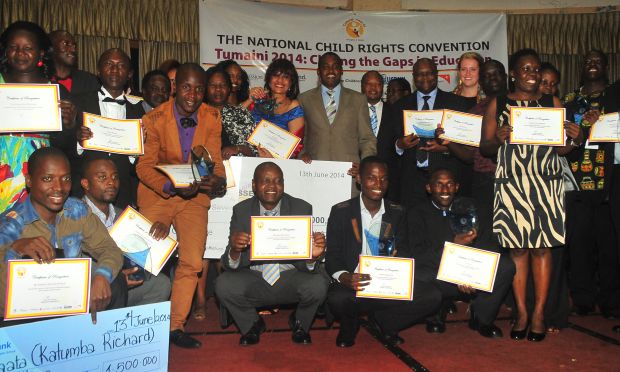 Individuals, civil society organisations, companies and members of the media who have made significant contributions and efforts to improve the lives of children in Uganda were on Friday 13th / June/ 2014 recognised for their efforts through the 'Tumaini' awards.
A Swahili word meaning "hope," Tumaini is an awards programme that signifies the optimism different efforts bring to orphans and vulnerable children in Uganda.
Among other winners, this year's life time achievement award went to Mrs Gertrude Ssekabira, a teacher by profession who has dedicated her life to help vulnerable girls and child mothers have a meaningful life.
Platform for Labour Action scooped the Day of the African Child award for their efforts to prevent and rescue children from child labour and exploitation. The awards were organised under the theme: "A Child Friendly, Quality, Free and Compulsory Education for All Children in Uganda." the theme for this year's Day of the African Child
While opening a panel of discussion which preceded the awards, Mr Gilbert Kamanga World Vision's National Director, said that this year's TUMAINI awards finalists are: "individuals and organizations that are striving to ensure that children throughout Uganda have access to high quality, free or affordable educations in safe, child friendly environments."
Tumaini was first organised by six child-focused organisations in 2011 by child rights organisations which include: African Network for the Prevention and Protection against Child Abuse and Neglect (ANPPCAN), Child Fund Uganda, Compassion International Uganda, Save the Children International, the Uganda Child Rights NGO Network (UCRNN) and World Vision Uganda. The United Nations Children's Fund (UNICEF) in Uganda joined the partnership in 2013.
Tumaini Programme Manager Sarah Lambie said that while the original goal of the program was designed to recognise and honour those helping children by highlighting their achievements through media coverage and a highly publicised awards gala, the program has since expanded to include an aggressive advocacy campaign focused on influencing policy and facilitating lasting change in the designated area of focus, which is determined each year by the African Union for the Day of the African Child (DAC).
This year's winners include;
1. Huys Link Community Initiative
First place pinner, NGOs/CBOs, Livelihoods category
2. Straight Talk Foundation
Second place winner, NGOs/CBOs, Livelihoods category
3. 3.Mr. Moses Kalanzi
First Place Winner, Livelihoods Individuals category
4. Emmanuel Matsyetsye
Second Place winner, Livelihoods Individuals category
5. Child Africa
First Place winner, NGOs/CBOs, Education category
6. Centre for Governance & Economic Development
Second Place winner, NGOs/CBOs, Education category
7. Tinka Paul
First place winner, Education Individuals category
8. Nargis Shirazi
Second Place winner, Education Individuals category
9. Platform for Labour Action
First Place winner, NGOs/CBOs, Child Protection category
10. The Sanitary Pads Workshop
Second Place winner, NGOs/CBOs, Child Protection category
11. Stanley Kamoga
First place winner, Child Protection Individuals category
12. Mr. Kabaata (Katumba Richard)
Second Place winner, Child Protection Individuals category
13. Emesco Development Foundation
First Place winner, NGOs/CBOs, Health category
14. Adina Foundation Uganda
Second Place winner, NGOs/CBOs, Health category
15. Esther Kalenzi
First Place winner, Health Individuals category
16. Okware Peter
Second place winner, Health Individuals category
17. Caroline Ariba
First place winner, Print media category
18. Brian Mutebi
Second Place winner, Print media category
19. Mukasa Abdalla Tiff
First place winner, Broadcast media category
20. Sam Anecho
Second place winner, Broadcast media category
21. AfriPads
Fist Place winner, Social Enterprise category
22. Mango Tree
Second Place winner, Social enterprise category
23. Standard Chartered Bank
First place winner, CSR Programs
24. Rainbow International School
Second place winner, CSR Programs
25. Stanbic Bank
Finalist, CSR Programs
26. Gertrude Ssekabira
Lifetime Achievement Award Winner: Education
27. Platform for Labour Action
Day of the African Child award winner