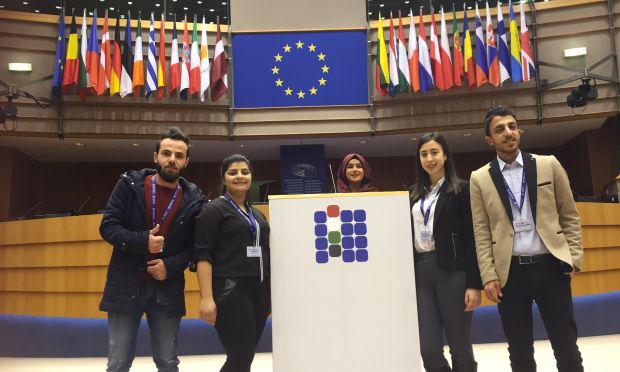 On 12-14 March 2019, the EU and the UN co-hosted the Third Brussels Conference on Supporting the Future of Syria and the Region. Global donors gathered in Brussels to attend a 1.5 Day of Dialogue and a Ministerial event. The international community showed support to Syria and the Region with a record pledge of €8.3 billion for 2019 and beyond.
World Vision seized that opportunity to shine a light on children and youth's needs across Syria and the region. Marc-Andre Hensel (Syria Response Director) and Rami Shamma (Field Operations Director, World Vision Lebanon) represented World Vision at the Conference, along with 5 youth delegates and colleagues of the World Vision EU Representation office. The youth delegates are all engaged in the EU-funded Youth Resolve project, a 5-members consortium that World Vision is leading.
World Vision's work was well featured and our key advocacy messages were widely shared. See below how:
- 2 youth delegates shared powerful testimonies during the Opening Ceremony, which was attended by around 800 participants (UN, CSOs, EU, Member States representatives);
- Marc-Andre Hensel and Cynthia (youth delegate from World Vision Lebanon), spoke on a leading panel on Child Protection and Education. Other panellists included the European Commissioner for Humanitarian Aid, the Regional Director for Middle East and North Africa from UNICEF, the Minister of Education from Lebanon and the State Secretary, Ministry of Foreign Affairs from Norway;
- World Vision secured 6 bilateral meetings with key decision makers from DG NEAR, DG ECHO, EEAS, The UK, The Netherlands, Australia and 3 joint meetings with CSOs and the Minister of Education, the Minister of Social Affairs from Lebanon and the UN-Under-Secretary-General and Emergency Relief Coordinator;
- World Vision secured 8 interviews with media from UK, Germany, Austria and China and was mentioned in several other media outlets, including, but not limited to, Tiroler Tageszeitung, Christian Today, CGTN, Church Times, ORF, Washington Post and AP News.