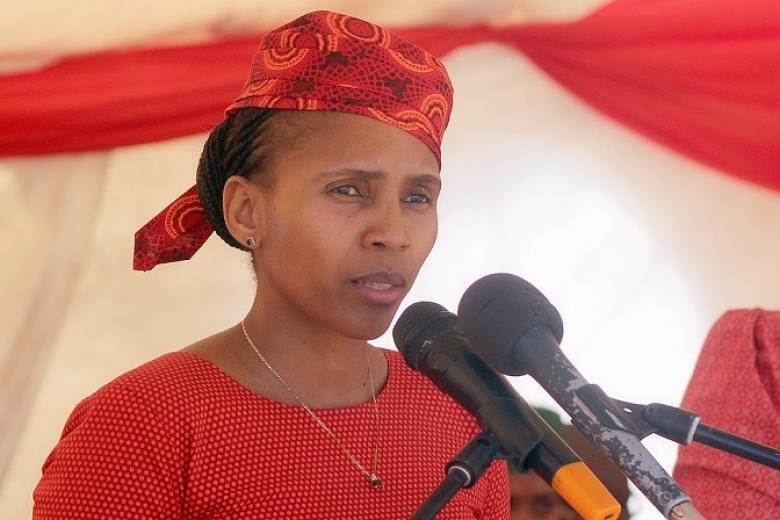 Queen Masenate of Lesotho campaigns with World Vision against early child marriage
Thursday, October 13, 2016
Her Majesty Masenate Mohato Seeiso, the Queen of Lesotho, a tireless advocate on children's rights, exhorted national and community leaders to take action in ending child marriage in the country. She said, ""Let us all protect children against all forms of abuse, including early marriage and ensure that legal action is taken against perpetrators of early marriage. We all have a responsibility to ensure that laws protecting children are implemented."
A UN 2015 report revealed that one out of five girls in Lesotho are married before they turn 18 years old. This alarming trend among young girls prompted Queen Masenate to encourage everyone present during a World Vision event celebrating the International Day of the Girl-Child to "stand up to end child marriages  which undermine the rights  of girls who  have to suffer physical , emotional  and mental scars   as  a result of early  marriage."
World Vision National Director Pauline Okumu also encouraged everyone to join the campaign saying, "Let us all join hands on all forms of discrimination against girls and work towards the creation of safe and protective environment for all children to enable them to have a fruitful, positive and healthy future. We must ensure that they become productive citizens of the country".
The country's Marriage Act of 1974 only allows marriage to be solemnized at age of 21 for both men and women. However, with the written permission of the minister, girls can marry at age 16 and boys at 18. The report adds that at least 2% marries at age 15 and 19% before they get to 18 years old.
Photo on top is a child leader participating in the Children's Parliament which is one of the child-led advocacy initiatives aimed at enhancing meaningful child participation in community development, public affairs, policy influence and decision-making on issues that concern them.
Nomatu, 16, studies at Mount Carmel High school. She said girls must be protected against early marriage because it destroys their future. She adds, "I appeal to all sectors of the society to protect vulnerable children who are forced to enter into a marriage because of poverty. The government must ensure that we all attend school because education is the key to every child's better future." She appreciates World Vision for training them on life skills. "We now know what channels to follow once we come across abusive situations. I also know that as a girl I have the right to realise my dream", she says.
The Unicef report further declares that child marriage is a violation of human rights as it "often compromises the girl's development by resulting in early pregnancy and social isolation, interrupting her schooling, limiting her opportunities for career and vocational advancement and placing her at increased risk of domestic violence".
The global campaign of World Vision against ending violence against children, has defined "violence against children as all forms of physical, sexual and mental violence, neglect or negligent treatment, maltreatment or exploitation, harm or abuse, including commercial sexual exploitation, trafficking, child labour, and harmful practices such as female genital mutilation/cutting and child marriage".
World Vision has been working in Lesotho for 29 years and has been serving thousands of children including 49,000 sponsored children. Tremendous achievements have been realized for vulnerable children in 8 out of 10 districts where World Vision operates.  World Vision aims that by 2020 is to contribute to the increased well-being of 550,000 vulnerable children in Lesotho.
Above photo: The crowd at Ntjepeleng community warmly sent-off Queen Masenate after the event.