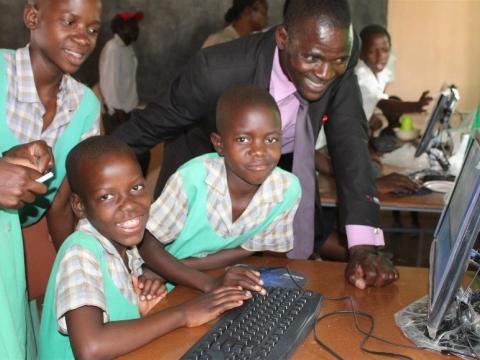 Children benefit from E-learning centre in Zimbabwe
Thursday, December 21, 2017
School learning will never be the same for more than 1200 children including school teachers who are benefitting from the recently commissioned E-Learning centre in Mashuma Primary School of Ward 17, Gokwe North.
Constructed at a cost of US$16 446 by the community with support from World Vision' Gokwe Area Development Programme, the E-learning centre is now transforming the learning environment of Mashuma. School Head, Marazanye Rukore could not hide his joy as he explained how the computers have transformed children's perception about the institution.
"We feel very relieved, previously we had problems of teaching, but now that there are these gadgets children learn on their own, they enjoy learning rather than forcing them. It's better than before, children come to school willingly, they are not forced and do not want to miss any school day. Children come to school regularly," he said.
Prior to the establishment of the centre, the school faced a number of challenges which included shortage of classrooms and text books. In a speech read on his behalf during the community led celebrations, Gokwe North District Schools Inspector Mr Musa Dove said the E-Learning centre will help school teachers deliver quality education as they will use computers to research.
"We are now living in the digital era, teachers will not spend sleepless nights planning for lessons but they will research by the click of a button from computers, meaning that they have more time to rest and prepare. It is my hope that the pass rate in school will also increase," he said.
Tinenyasha is in Grade six (6th year of school) at Mashuma primary school.  She dreams of becoming a teacher. She is delighted to have computers in the school.
"We are now learning different subjects such as Maths, Agriculture and others in the school because of the availability of computers in the school," she said.
The school head also revealed that parents are now cooperative in supporting education in the area. The E-learning centre has 11 desk top computers which run on solar powered energy and a standby generator.
Operations Manager for World Vision Zimbabwe northern region, Mr Amon Matsongoni said that the organisation has partnered with the community in implementing projects in various sectors including education that enhances children's well-being.
The E-learning centre was constructed using Bounce-back funds reserves after the successful holding of the 11 parties reaching 4221 children within the Area Development's catchment area. Bounce back are resources that are used to hold collective birthday parties in communities.