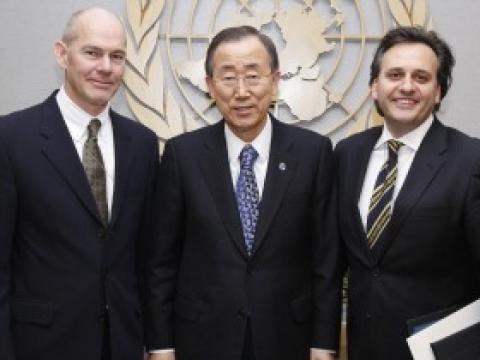 Co-operation is good for the poor
Thursday, January 27, 2011
WVI President Kevin Jenkins met UN Secretary General Ban Ki-moon and other UN leaders on 11 January 2011 to discuss ways World Vision and the NGO community can work with the United Nations system.
"World Vision is committed to reducing duplication and wasted effort in humanitarian responses and development work," said Mr Jenkins after the meeting.
"It was no surprise to find that UN leaders feel the same way, and we were all pleased to identify key areas in which we can make practical improvements."
The Secretary General is setting a vigorous agenda in the UN. The two discussed relief responses in Haiti and the lessons to be learned from a huge response, by many groups in a complicated environment. Development opportunities in Sudan, following the referendum on nationhood for southern Sudan, may potentially be transformational for the population, they agreed.
The Global Strategy for women's and children's health is an unprecedented opportunity to win gains for those who have least access to healthcare. Both discussed ways to ensure that every dollar spent is used intelligently and without duplication. Mr Jenkins has been appointed to the WHO Commission which seeks to ensure there is full accounting for financial commitments to the strategy.
World Vision's commitment to seeking justice for the most vulnerable children finds an echo in that of the UN Children's Fund, UNICEF, which pursues equity for children who are unable to access resources and services. Mr Jenkins and UNICEF Director Tony Lake considered ways to set up to studies in countries of concern that would break down average statistics to help experts reach children who are currently excluded.
World Vision works in 95 countries around the world, and in many of them finds common cause with the UN Development Programme. Mr Jenkins and UNDP Administrator Helen Clark agreed to have technical staff consider new ways to work together on disaster recovery and preparedness, livelihood development and microfinance.