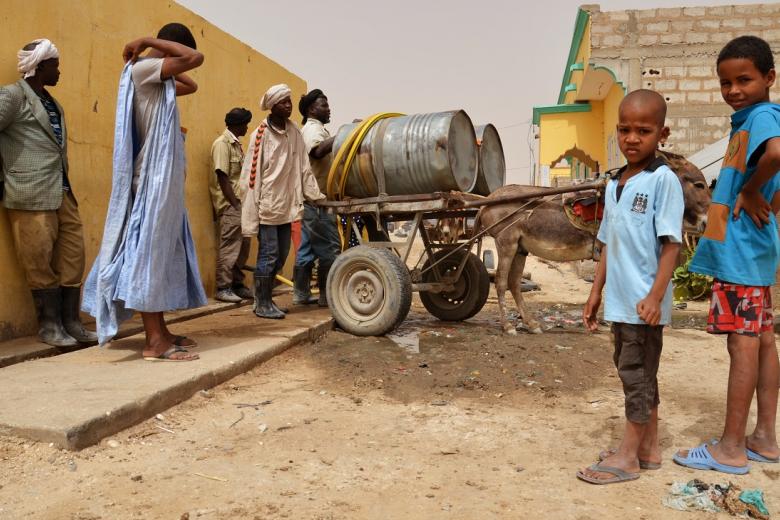 Coca-Cola Project - "Safe Drinking water for all in Nouakchott": 72.000 persons will soon get access to Safe Drinking
Friday, April 24, 2015
Co-financed by the Coca-Cola Foundation, with complimentary funding by World Vision, the project "Safe Drinking water for all in Nouakchott" will commence its execution phase by the end of April 2015, after the identification of water sources to be rehabilitated, and the construction of mini-networks for new water sources. Below are some perspectives in the field, based on meetings held with the beneficiaries and World Vision Mauritania's public partners in this project.
In El Mina
Dar El Beida is a peripheral suburb of El Mina, and has no access to safe drinking water. 2.500 souls have "very limited access to water over there" specifies the mayor, Taleb Ahmed Ould Mbareck, worried about the onset of the very hot season. "The issue of hygiene and hydric diseases becomes worse during this particularly difficult climatic period" continues the mayor. Therefore, the extension of two mini-networks in the district is a beautiful prospect for the inhabitants.
"Water will finally be within reach of families. It's a zone with recurring cases of diarrhea, and where we regularly have to de-worm children, because of the quality of the water which is transported by the donkey-driven chariots for more than a kilometer" underlines Sheik Ould Mohamed Ali, community leader of Dar El Beida. "The crowded population significantly increases the risks related to hygiene" specifies the mayor.
Quality and accessibility to clean water is set to improve, thanks to this project co-financed by the Coca-Cola Foundation and World Vision, and implemented by World Vision Mauritania. This is Mouna Mint Oumar's fervent hope, a mother of six children, among whom two are under 5 years old. "Today we pay 200 MRO for one barrel of water a day,, and the water seems relatively good to our naked eyes" she says.
"A 200-ouguiya barrel of water does not respond to  the standards of the WHO; there is definitely a problem of health at home. A household with an average of 10 people cannot wash itself with only one barrel of water, as well as clean the house, and do the dishes and laundry" asserts World Vision Mauritania's El Mina ADP Manager, Khacha.  Mouna confirms this: "We alternate when it comes to washing ourselves; some people can wash themselves today, and then they skip several days to allow others to also wash themselves several days later; for every barrel, two children wash themselves " indicated the woman.
 "This project is fundamental for us. We literally die from thirst here."
At Arafat
Sharm-el-Sheikh in Arafat's periphery, is evolving in the same context. "We stock up with water from chariots that come from a great distance, and with great difficulty. For my part, I spend on average 600 ouguiyas a day on water" says Vatimetou, mother of two children of less than 17 years.
"Tanks can cross once a month to fill the 12 cubic meter pond which you see, but as it is, they have been coming only once every two months!" Asserts Rokhaya Mint Bah, mother of 14 children, among whom 6 are adults, and administrator of the pond that was still not connected to Arafat's water network. "This project is a very important one for us. We literally die from thirst here. We do not have too many water-related health problems, but we badly need this infrastructure" adds Rokhaya.
Alarm bells ringing from Rokhaya's mouth, which also appear to be shouts of despair, in a zone where the 200-ouguiya barrel of water often costs as high as 1,000 ouguiyas during hot periods when water is most needed in Arafat. 
At number 10 water terminal in Arafat, not far from the city hall, Mariem Mint Nyari, committee member of the water terminal management committee, is in charge of this terminal today, where several water transporters are leaving Sharm-el-Sheikh. The number 10 water terminal is a part of 15 water sources selected by the project, in Arafat, which must be rehabilitated. "There are a dozen water transportation chariots who work here, and serve between 70 and 100 homes daily" she says.
All around, the importance and need of rehabilitating the water source is evident : mud, dirt, donkey excrement. "We clean the water terminal area every Friday, and ensure that the water distributed is not contaminated by dirt" justifies Mariem, who presents as proof the fact that the children and the grandchildren of the management committee members are not affected by water-related diseases.
The project will rehabilitate 15 water sources out of the initial 20 identified at the beginning.  "We have been involved right from the start of the project. The city hall identified 20 water sources to rehabilitate that we presented to World Vision Mauritania. Afterwards the national water company (SNDE) advised that most would be no longer in use after the  Aftout Es Saheli project, and that it was more important for us to focus on the extension of the municipality water network. As a result, we agreed with World Vision on 15 water sources to be rehabilitated" explains Mohamed Ould Arbi, technical adviser in charge of coordination with NGOs, in Arafat municipality.
Next to him is Mohamed Taleb Ould Malouma, 3rd deputy mayor of Arafat, in charge of external relations, ponders silently before continuing: "We are in a partnership with World Vision, as well as SNDE. But we have to say here that our communities are in urgent and immediate need of water. This twelve month project financed by Coca-Cola Foundation and World Vision should provide for this urgency. But with delays from SNDE, we do not know if the deadlines will be kept. Our schedule is different from that of SNDE, which does not guarantee a fast access by our fellow countrymen to water" he asserts.
Key figures: "Safe Drinking water for all in Nouakchott"

Beneficiaries: 72.000 people impacted by this project, in 4 municipalities of Nouakchott where Ryad, Arafat, El Mina and Sebkha ADPs are located;  Among the beneficiaries,  8.000 are children.

Total budget: 737.779 US dollars.
In Sebkha
Oumar Aly Thiam is the mayor of Sebkha, in the southwest periphery of Nouakchott. He insists on the sanitary conditions of access to water for a big part of the municipality. "We regularly deal with a lot of cases of water-related diseases, in particular diarrhea amongst infants. The water is not good. The water transportation chariots don't take hygiene seriously, and the open pits next to the water fountains, are not made to improve things" explains the mayor.
He also laments on the exorbitant prices which his fellow countrymen pay in comparison to the other municipalities. "A family of 6 people pays on average 10.000 ouguiyas a month to have access to some drinking water, against 5.000 for the same family in Tevragh Zeïna, the very rich district of the capital" explains Oumar Aly Thiam.
Two other observations which show appreciation at the the prospect offered to the municipality by the "Safe Drinking water for all in Nouakchott" project:  "We expect tangible impact especially in Khouva and near Basra (neighbourhoods of the municipality - editor's note), where about 3,000 people should benefit from these water point rehabilitations; and even more so from the SNDE extension project." elaborates  Amadou Alhussein Diouh, technical advisor in the city of Sebkha.