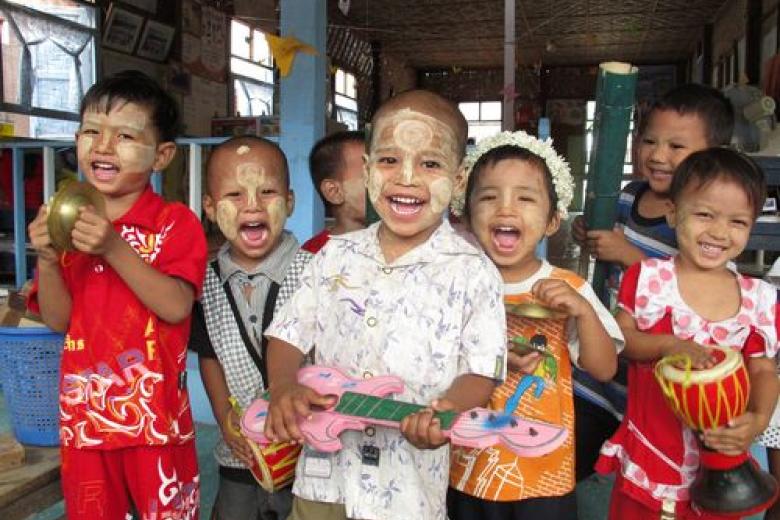 Friendly space for the children
Wednesday, January 16, 2013
World Vision's Early Childhood Care and Development (ECCD) Centre at the Chanmyathazi area development programme benefits the community's children and families.
Yan Htet Naing, 4, is happy to attend the Early Childhood Care and  Development. Every morning, he is ready to go to ECCD centre. Yan Htet Naing who rarely smiles before comes to the centre with a broad smile now. The boy who wears Thanakha (traditional suncreen, a yellowish-white cosmetic paste made from ground bark) on his face enjoys his time with his friends at ECCD centre.
"When he first came, he didn't talk much. He stayed alone at a corner and cried. We could not ask him to read or write. When I asked him to write some basic alphabets, he jsut scratched the book. Day by day, he slowly changes. He expresses his feeling and start talking to other children. Then, he participates in the activities and games.Now, he becomes the one who eagers to learn," says Daw Hla Myo Swe, ECCD teacher.

His 58-year-old grandmother is taking care of Yan Htet Naing since his parents died with malaria three years ago.
"My grandson was very shy and didn't talk much at home. I want him to communicate with others and making friends. That's why, I send him to ECCD centre," says Daw Ma Gyi, Yan Htet Naing's grandmother.
Yan Htet Naing who used to be shy and timid is now making friends at ECCD centre. "I love playing with my friends. I also like singing, reciting poems and listening to the stories," he says.