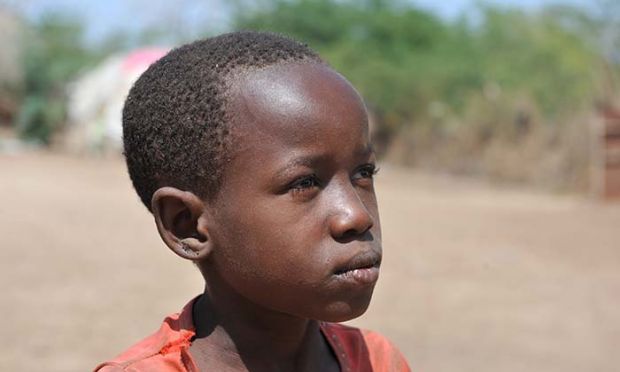 Written by World Vision Kenya Communications Officer Zipporah Kageha Karani,
If I could go to school
"I tell my mother everyday that I want to go to school. She tells me 'who will take of the boy, my younger brother'," says 8-year-old Lochuro.
Drought and her mother's daily scrounge to earn a few shillings is stripping this girl of the opportunity to go to school.
Lochuro's family have lost nearly all their goats and abandoned their dried-up pasturelands. After a two-day walk, Lochuro, her mother and her younger brother and sister settled on the border of a refugee camp.
Although once a prosperous goat farmer, Lochuro's mother Monica now begs refugees for a cup full of sorghum or carries thorn tree branches to earn $20 Shillings (0.20 USD) per day.
For Lochuro, taking care of her 2-year-old brother and 5-year-old sister is her daily task while her mother seeks a bit of food for the family to survive. It's one she doesn't enjoy.
"I am not happy to stay at home while others are going to school. I'm praying that if I grow up, I can help other people and my own mother. I want to complete my education. I want to learn like any other person," Lochuro says.
Every morning, she watches other children with envy.
"When I wake up early in the morning, I come to our neighbours compound. I see children arrange themselves to go to school."
Lochuro adds, "I hate the way we live as a family. I am optimistic of a chance that might come to be enrolled in the nearest public primary school."
Drought robbing thousands of education
Lochuro is one of thousands of Kenya school aged children who are not in class due to the ongoing drought. According to a May 2017 UNICEF report, a total of 174,954 Kenyan children, ages 3 to 18, have been reported to be out of school as a result of drought.
Lochuro hasn't stopped learning, though, even if she's not in a classroom. She's learned to count from one to 34 and write the alphabet. A distant relative, a student used to live with her grandmother, taught the basics.
Her only struggle is to grasp the alphabetical spelling.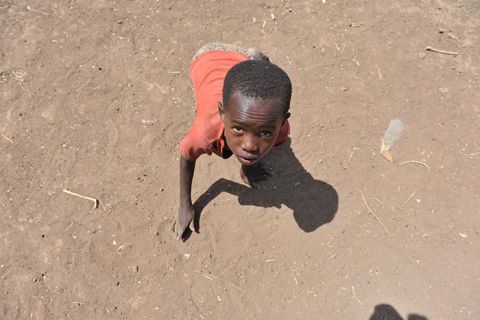 Education in Emergency: Children in the host community
World Vision Kenya supported the host community and refugees through an education in emergency project funded by UNICEF and World Vision support offices in the past. The project came to an end in June 2014. The purpose of the project was to enhance access to quality education of children, particularly for girls.
The host and refuge community have benefited from the construction of classrooms. World Vision supported the construction of Hope Primary School where 4,800 refugee children get an education.
-End-