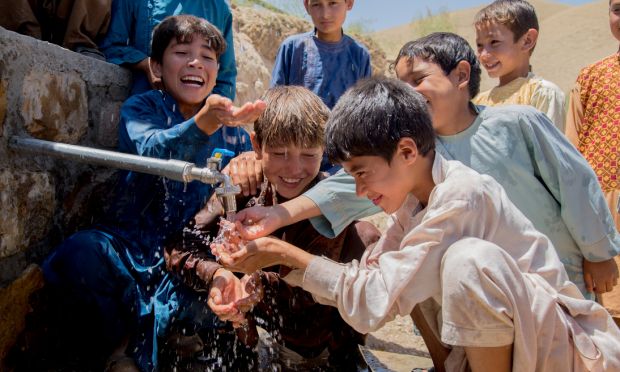 Little is more delicious than water when you are very thirsty. You go to the kitchen, pick up a glass, open the tap and fill it with water and then you drink it. Very easy and very tasty! This was not the experience of 700 thirsty families in Zengar village of Ab Kamari district who had to walk 10 km to collect water from the nearest river.
The journey of fetching water
Suleiman, 14, says, "It took me almost 4 hours to reach the river. I went with my donkey. It is so hot in summer so I tried to go early in the morning. On the way to the river, I usually sing a song loudly because there is no one there to laugh at me." He giggles and continues. "When I was younger I was afraid along the way, mostly from the wild dogs, but now I am becoming a man and know what I should do when I see a dog. I don't run away. I sit and look at the dog's eyes, then he leaves me alone."
When it comes to collecting water, children are the first option in every family. In Zengar children had to transport four 16-liter barrels by donkey to fetch water from the spring.
Reaching the river, Suleiman filled up his barrels with water; the same place where his donkey drinks from. "I was fetching water from the river and at the same time my donkey would drink from the same source. Again when I was younger, I thought this was a common thing anywhere."
Suleiman loved going to school, but some days he would feel very tired and wouldn't have any energy to walk to school. "My school was in the afternoon. When I came back from collecting water, I ate my lunch and prepared to go to school. Sometimes in the class, I was so tired and couldn't concentrate on the teacher. My leg was very painful and I felt the skin on my face burning [because of sunshine]. I also felt pain in my back."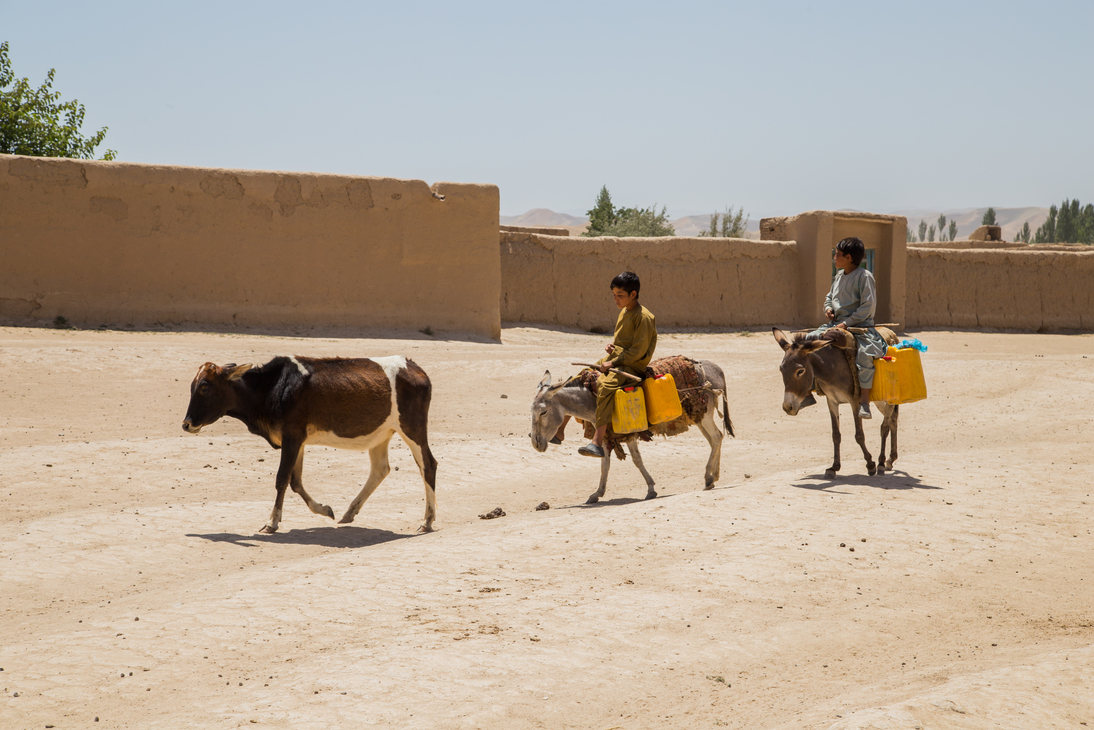 Children are going to a river to collect water
Clean water, a community-wide concern
For families, especially children, the river water was a big problem. Because of drinking contaminated water, they often complained of stomachaches and being sick. "I had a painful ache on the right side of my belly. My mother gave me lots of herbs but I didn't get better. My father took me to a doctor and after a lot examination, the doctor told me that my kidney has stones and I should drink plenty of clean water."
"If we poured some water on a cement surface, after drying the water, you could easily see something white which was salt."
To show how salty the water was, Maryam, the mother of Suleiman, explains that "If we poured some water on a cement surface, after drying the water, you could easily see something white which was salt." She shows her hand and says, "Look into my hand. You might think that this is the hand of a 50-year-old woman, but I am [only] 35 years old. The salty water does this to our hands; imagine what happens to our kidney and stomach after drinking it." The poor economic conditions also didn't allow families to boil water (due to the cost of firewood) or buy chlorine to purify the water.
A 2017 baseline study conducted by World Vision found that 66% of people surveyed in Ab Kamari district had at least one child under the age 5 who had experienced diarrhea in the last two weeks. High diarrhea rates are often linked to poor water, sanitation and hygiene conditions in communities.
A recent water quality analysis conducted in Ab Kamari district, where Suleiman lives, showed that the fluoride levels exceed WHO and Afghanistan National Drinking Water standards. This is particularly concerning due to the negative health impacts of prolonged fluoride consumption. Consumption of water with fluoride levels in excess of 2mg/L can lead to tooth discolouration and/or pitting of children's teeth during the formative period of tooth growth. Consumption of drinking water with fluoride levels in excess of 4mg/L can lead to crippling fluorosis, a condition characterised by pain and tenderness in the major joints.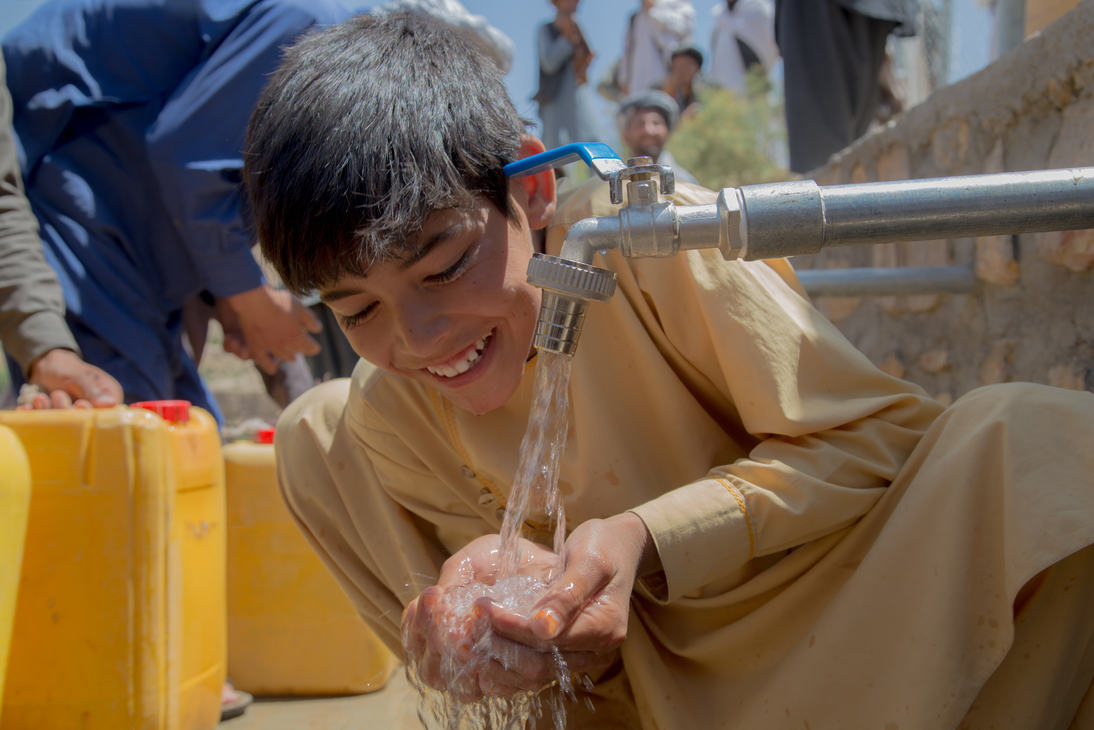 Suleiman is drinking clean drinking water
Seeking a solution
Through funds from US private donors, for the first time in Afghanistan, World Vision has established a solar-powered reverse osmosis (RO) and ultrafiltration system to provide clean, safe drinking water for approximately 4900 people in Ab Kamari district in Badghis province. It is the first solar-powered reverse osmosis unit with ultrafiltration that has ever been constructed in Afghanistan.
Reverse osmosis is a technology that is used to remove a large majority of contaminants from water by pushing the water under pressure through a semi-permeable membrane. It is often used in situations where water contains chemical contaminants, such as fluoride and arsenic, which are difficult to remove with more rudimentary water treatment methods. It is commonly used as a desalination technology.
Watch the video of the system here: https://youtu.be/9d4G9gIAkcQ
The RO system World Vision has set up in Ab Kamari District is the first of its kind in Afghanistan. It can produce up to 4300 litres of clean, safe drinking water per hour. It removes the majority of contaminants including chemical, physical and microbiological contaminants. The flow rate at each tap is approximately 33.3 litres per minute, well within the SPHERE standard of 7.5 litres per minute.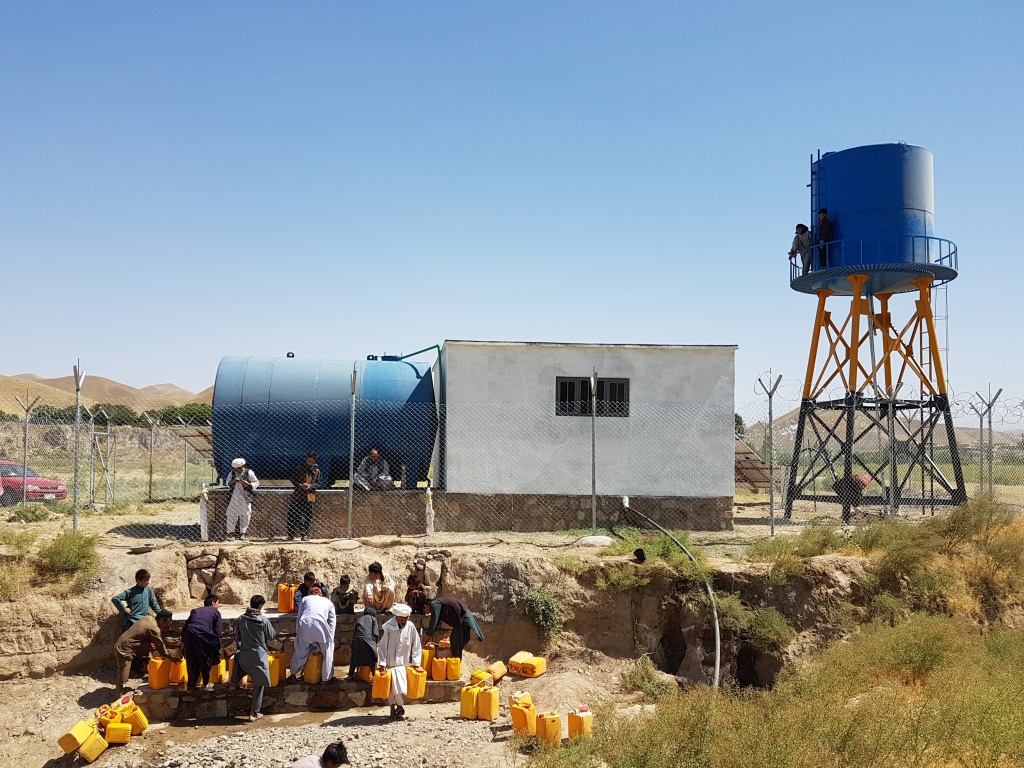 According to World Vision's WASH Engineer Ahmad Seyar Haqmal, "We have started working on this trial with the support of donors from the United States. After almost one year, we have succeeded in running the system and providing sweet and safe drinking water through it. We expect that the rates of diarrhea and school drop-out will be reduced."
Suleiman says that "Today, I slept more in the morning and only walked 20 minutes to collect the water from the tap. I had enough time to do my school homework and play with my friends." "In school, our biology teacher always said that clean water is tasteless and without color and smell. Today for first time I was able to taste real clean water."
To ensure the sustainability of the system, World Vision and the system supplier trained a community technician to manage and maintain the system. In addition, the community shura (elders) is collecting water user fees of approximately US$0.07 per 20 litres (much cheaper than the current market rate for water of approximately US$0.40 per 20 litres). This money can be used for the maintenance of the system as well as payment for the community technician.
Beyond purifying the water
Recognizing the increasing scarcity of water in Afghanistan, World Vision considered the environmental sustainability of the aquifer that the system is extracting water from. World Vision sited the RO system where there is a known abundance of groundwater, regular aquifer recharge, and where demand for water is unlikely to outstrip supply. Furthermore, Ab Kamari district has been identified as an area where World Vision plans to conduct Farmer Managed Natural Regeneration (FMNR) – a land restoration technique that supports groundwater recharge.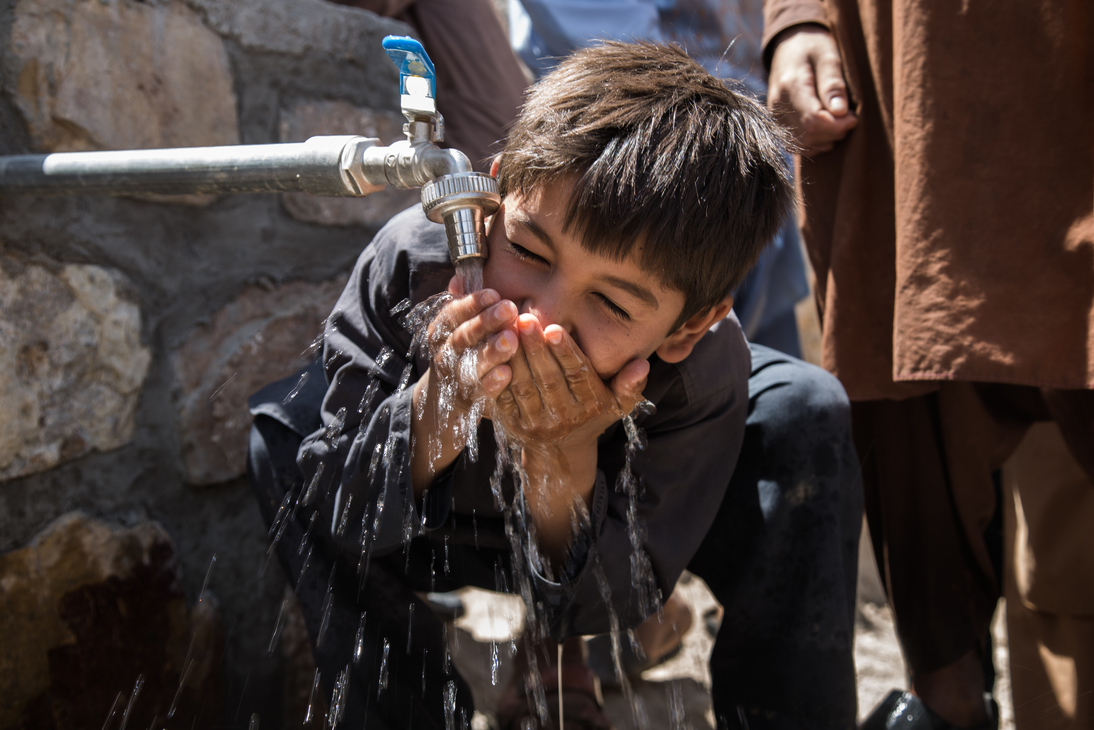 According to Rosanna Keam, World Vision Afghanistan's WASH Specialist, "This is a very exciting innovation for everyone – our WASH technical staff, the Afghan Department of Rural Rehabilitation and Development, and most importantly the communities World Vision seeks to assist. Not only does it provide us with a great learning opportunity, it also solves the complicated water contamination issue that has been plaguing these communities for many years. I'm most excited about the positive impact this is going to have upon women and children in the district. No longer will they have to spend hours searching for water, water which will most likely make them sick and force children to miss school. I am glad to see this is a success and hope we can do more work like this in the future."
Not going back
"I don't know how the system works, but my father was explaining to my mother that the machine uses the salty water of the well and makes it clean. I am very interested to know the details of the system. I want to be an engineer to make such a system for the villages that have salty water." Suleiman explains
World Vision Afghanistan aims to scale-up this innovation in other parts of the province that are experiencing similar issues with groundwater salinity in order to ensure children and their families have access to safe drinking water, in their communities, schools and health centres.
"Today I am in heaven. I can't believe that we have clean drinking water. As long as I can remember we had been drinking the salty water of the river. Giving water to a thirsty person has so many rewards from God. God bless you and I hope whatever you want from Him, He gives to you." Maryam says.