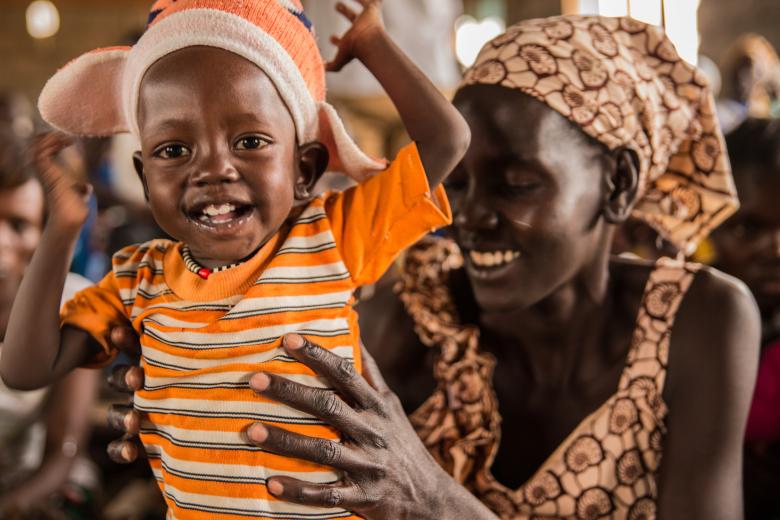 Overcoming malnutrition and tuberculosis in Juba
Monday, May 15, 2017
As soon as the music starts, Garang is all ears. At 18 months, the little boy is already a great dancer and, together with hundreds of other women at World Vision's urban training centre, he sways to the beat. Having overcome both tuberculosis and malnutrition, Garang already is a true rock star.
His mother, Acheng, has been attending a cash for training programme in urban Juba, helping her – and 1,080 other beneficiaries – overcome famine and economic crisis in South Sudan. The idea behind the initative is simple: beneficiaries receive a small amount of cash to feed their families, while they attend vocational training and awareness raising sessions once a week.
"I've already been here four times and, besides receiving cash to buy food, I am taught farming techniques and household hygiene," Acheng explains. She's been going through several rough years and is just now settling in Juba. "I'm originally from Bor, but came here right after Garang was born," the young mother recalls. "People were killing each other in my village and my husband was one of the men, who lost his life. After seeing him dead, I grabbed Garang and my other son and fled. It was a tough journey and I wasn't sure if we'd make it at all, but it was time to go and find safety."
Garang eats ready-to-use theraputic food to recover from malnutrition. © World Vision/Stefanie Glinski  
Acheng first came across World Vision, when she signed Garang up for therapeutic feeding. "He was very malnourished back then and I wasn't even sure he would survive. I had no food and no milk to give him," she remembers, talking quietly about the pain she went through. "Back then, he was also diagnosed with tuberculosis. He's had a tough journey."
Still on his TB drugs for several more months, Garang has made a speedy recovery regardless. Today, when he is joining his mother for her training session, he is playing with other children if he isn't practising his dance moves. During a short break, Acheng gets out a bag of 'plumpy nut', a nutritious paste to give to malnourished children. "Garang will be finishing his nutrition supplements soon as well, because he is much better," she says, smiling as she watches her lively son devour the food.
Cash transfers are distributed at the training centre. © World Vision/Stefanie Glinski
With both training and money, Acheng is determined to start a small business. When arriving in Juba over a year ago, she first wanted to make sure that her children were doing fine, but she's now ready to start working towards a better future for them as well. Over the last weeks, she has met women with similar experiences and has found comfort in this new community.  
"The programme has changed my life. It's still hard that my husband is not with us anymore. When my kids are older, I will tell them that the crisis took their father. Then I will make sure that they go to school and become educated," she says, adding, "If my voice was heard, I would tell people to stop fighting and start living in peace." 
Join churches worldwide responding to this crisis through the Global Day of Prayer to End Famine, a broad coalition of more than 100 faith-based organisations representing more than 1 billion Christians.