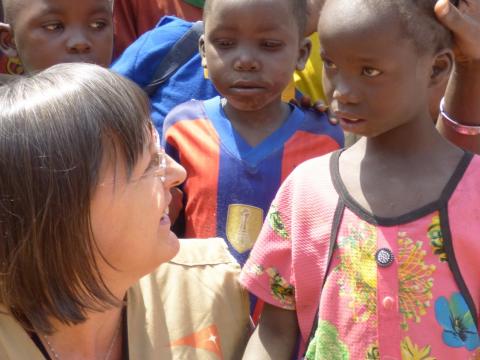 Remaining hopeful even in times of extreme difficulties
Wednesday, February 28, 2018
 They maintain the hope even as they gather to greet a delegation from World Vision. These community members express not only their needs but also their hopes and dreams of a safer community one day where they can live and thrive.
Situated 600 kilometers from the capital Bangui in the north west of the country, Bocaranga is one of the hottest regions of the country. Tensions have remained high since the outbreak of civil conflict in 2013.
According assessment reports, the needs are enormous. They are particularly greatest in the sectors of food security and livelihood, water, sanitation and hygiene as well as in the education sector.
World Vision's response
World Vision has been supporting the affected communities in Bocaranga since April 2017.  Through funding from the Government of Netherlands, World Vision has been able to ensure daily provision of food to meet the dietary needs of 800 families through Cash Transfer programmes as well as giving food vouchers.
In Bocaranga, World Vision has been working alongside community-based established structures to strengthen protection mechanisms at community level and access to basic services. However in September 2017, World Vision –like many other NGOs were forced to withdraw all its activities because following heightened insecurity that persisted for nearly two months.
In November 2017, World Vision resumed its operations in Bocaranga following improvement in the security conditions and is providing essential services to the affected communities. 
World Vision leaders' message of hope
Recently Justin Byworth, Global Lead for Disaster Management and Esther Lehmann, the Regional Leader for West Africa region met with Internal Displaced Persons in Bocaranga as well as World Vision staff in Bangui.
The two leaders shared the much-needed messages of hope.  "I know that you faced many difficult moments. But I know that God loves you and he did not abandon you", Esther shared with the IDPs in Bocaranga site centre, urging them to also pray for the Donors who give to the cause of World Vision.
The two leaders also held meetings with the local authorities who work closely with World Vision in Bocaranga.
 "World Vision's programmes have helped save many lives-especially those of IDP orphans in our community and we want you to continue. We pray that you will continue to do more so that more children and their families can be helped," said the Mayor of Bocaranga city when he received the World Vision delegation. The Mayor was flanked by the Collectivities' Chiefs, District chiefs and women representatives.
 About the Central African Republic humanitarian crisis
The Central African Republic has been plagued by an internal conflict since late 2013, a conflict which has both political and economic causes.
Despite the return to constitutional legality and the election of a new president in early 2016, the security situation remains extremely volatile and unpredictable. Continuing acts of violence continue to be carried out against children and their families. Act of plundering resources and preventing the redeployment of state services have particularly been widespread.
The protracted humanitarian situation has further reduced access by humanitarian workers and civilians have become regular targets. An estimated 2.5 million (for 5,000,000 inhabitants in total) people entirely depend on humanitarian assistance.
During a prayer session with staff, Justin Byworth encouraged them to remain hopeful just as God promised in His word in 2 Corinthians 1, 3-7: "
For just as we share abundantly in the sufferings of Christ, so also our comfort abounds through Christ. If we are distressed, it is for your comfort and salvation; if we are comforted, it is for your comfort, which produces in you patient endurance of the same sufferings we suffer. And our hope for you is firm, because we know that just as you share in our sufferings, so also you share in our comfort"
Saving the lives of children is our collective responsibility
World Vision in CAR will continue to support the Government of the Central African Republic in increasing the safety, resilience, and well-being of children and families affected by the conflict and humanitarian crisis. Its' priorities for 2018 will be to impact the lives of thousands of beneficiaries, using peace building and social cohesion as an operational approach and focusing on children.
Central African Republic has been in civil war since 2012. The continuing acts of violence have left nearly 2.5 million people living as internally displaced persons (IDPs). In Bocaranga town, where World Vision has operations, community members are trying to get by the day.