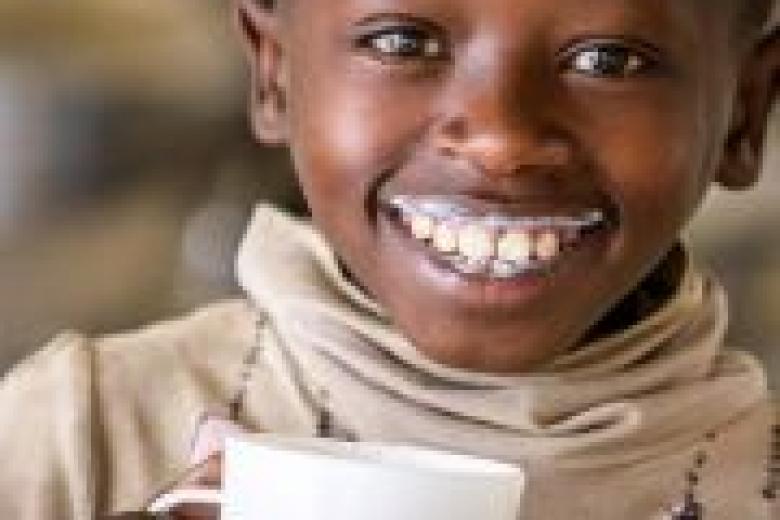 When Moses got milk
Tuesday, May 26, 2015
On Tuesday, I met the most incredible boy, a boy who shouldn't be alive to tell his story. His name is Moses.
Moses lives in southern Rwanda, in a place with the highest level of malnutrition in the entire country. 
Nearly half—45 percent of all children who live here—are stunted.Moses was hungry—so hungry that he did the unthinkable: He tried to suckle the milk from goats.
Weak and frail, Moses was near death. Then a miracle happened—a miracle with a wide-brimmed hat and an even wider smile named Noel Nkundimana.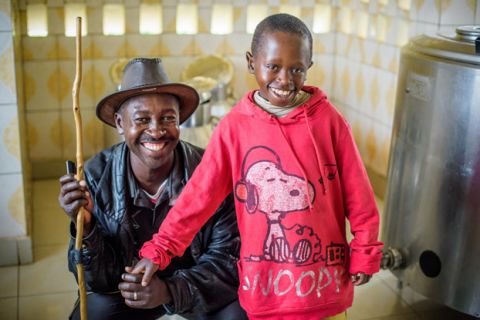 Noel and Moses. (Photo: 2015 Jon Warren/World Vision)
Noel Nkundimana is a farmer in southern Rwanda. World Vision gave Noel a cow as part of Rwanda's "One Family Per Cow" program. In working to provide one cow for every family, the government hopes to restore health and prosperity to its people. World Vision is working alongside, giving families cows.
As everyone began to receive cows, there became a glut of milk on the market. Using child sponsorship funds, World Vision built a milk processing plant to buy the surplus milk, ensure that it is fresh and disease-free, and then sell it to the market.
 The manager of the plant, Jean Marie Vianney, says that the milk distribution center wanted to do more than create an innovative business opportunity for residents. They wanted to give back.
 "Because World Vision's vision is life in all its fullness," says Jean Marie, "we thought we should go beyond what we do for a family [economically]."
 The plant started providing free milk to the orphans in the neighborhood to boost their health.
 That's when Noel saw Moses by the side of the road. "He was looking so miserable," said Noel. "He said, 'I don't have a parent. I am just so hungry'."Noel brought Moses to the milk distribution center to begin drinking milk each morning and night.
 When he arrived last January, he weighed 30 pounds, distressingly small for a 10-year-old.
Moses and Letitia. (Photo: 2015 Jon Warren/World Vision)
Staff worker Letitia Nyiranzabandora, felt sure that he would die. "The first time I saw him, I didn't have hope that he would be a real child in the future," she says.
 Letitia was wrong. Just 12 months later, Moses has gained 20 pounds. His hair has grown back. Now he can run and play with the other children. Moses loves Noel. "I pray a blessing for him. He saved my life," he says. The milk distribution center has big plans. They are diversifying, making yogurt, cheese, butter, and even biscuits from the milk. They are expanding to new markets in Rwanda and the Democratic Republic of Congo, ferrying milk in brightly colored little red trucks to dairy shops.
And Moses?  
Now 11, he continues to drink milk from the center. He's back in school. And on holidays, he helps Letitia serve milk to other malnourished children—children just like he used to be.
 Thanks to Noel, a Good Samaritan and finder of lost sheep, Moses got more than just milk.
Moses got life.