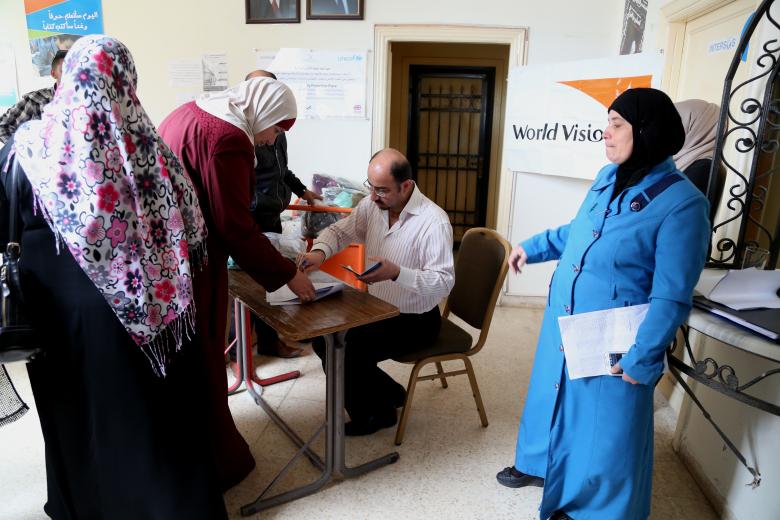 Winter clothes lift the burden for Syrian families
Tuesday, August 11, 2015
"We buried our belongings and gold in the ground because we could not take them with us!" says Hayder
"We buried our belongings and gold in the ground because we could not take them with us!" says Hayder, a 31-year-old Syrian father from Homs. Today he and his family, his wife and two daughters Jana, 4.5 years old, and Hadeel, 2,  live in a small two-room house in Irbid city, in northern Jordan. They have been living in Jordan for two years and a half now and are expecting a third child. 
Walking all the way to Jordan -around 300 kilometres- was the toughest thing he has ever had to go through. They were, however, pleased with the treatment they received upon arrival; they described it to be the most beautiful reception. To earn a living, Hayder works as a daily worker, carrying and lifting items that do not weigh much. He hasn't been able to lift the same amount after he suffered injuries from a mortar shell that exploded near him, damaging his leg.
"Boxing requires speed and strength," says Hayder who was a lightweight boxer for the Syria National Boxing Team before the conflict started. Athleticism runs in the family, two of his brothers are also international sports champions. Hayder had previously visited Jordan in 2007, 2008 and 2009 to participate in boxing championships.
Hayder's family is one of the beneficiaries of World Vision Jordan's Gift-in-Kind programme supported by World Vision United States. The program, which was implemented in cooperation with the Princess Basma Youth Resource Centre, has distributed 2,233 pieces of winter clothing to Syrian refugees and Jordanian families living in vulnerable conditions: 70 per cent of the recipients were Syrian and 30 per cent were Jordanian.
"There are days that pass in which we are desperate for a drop of water," explains Hayder.
Though it was March, you could still feel the cold in the house. Hayder, the young father, expressed his thanks for the winter clothes which will help them face low temperatures. Meeting basic needs such as food, milk and diapers can be a challenge for the family. "There are days that pass in which we are desperate for a drop of water," explains Hayder. As is the case for all Jordanian cities, water is delivered to their house once a week and is meant to last for an entire week.
Although he doesn't like asking for help, this situation has humbled Hayder and his family. "I cannot see my children hungry," he says.
 "I cannot see my children hungry," he says.
In addition to food, milk and diapers, the family also needs, cash, hygiene products and vegetables. They pay 130 Jordanian Dinars (about $184 USD) per month for their rent. "Sometimes we cannot afford the cost of a gas cylinder to warm up the house and to use for cooking," he says.
Inspite of the family's challenges, Haider is determined to create a brighter future for his children.  He shares, "The girls will go to school because they are smart."