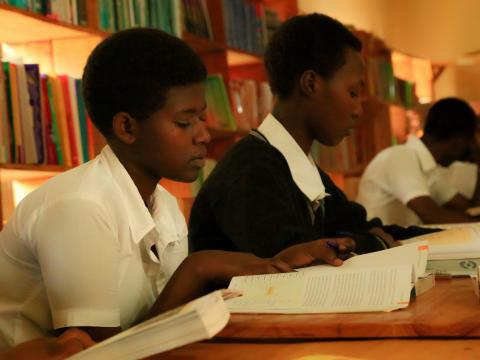 World Vision's Intervention for Quality Education
Friday, April 6, 2018
 "I study with a lot of passion so that I will become a great computer scientist," says 17-year-old Annick with a shy smile. Many times during the week, she visits her school library to read and prepare her class assignments.  Annick is one of the 393 students of Rango Secondary School located in Mareba sector of Bugesera District, Eastern Rwanda. 
The Rwandan Government sees education as a critical investment for the future growth and development of the country. Hence the education system has gone through a remarkable period of growth especially in the sector of access to education. This was achieved through working with and addressing the needs of schools (public and private) to continually improve the quality of education. 
Located in World Vision's Area Programme of Ngenda, Rango Secondary School faced multiple challenges mostly the absence of a proper library, laboratory instruments and an ICT lab. "These challenges caused a low performance of students in general. It was also impossible for the school to offer advanced classes for students who completed S3," explains Jean-Marie Vianney Hategekimana, director of Rango Secondary School.
Between 2011 and 2016, World Vision supported Rango Secondary School by providing construction and learning materials. Thanks to this intervention, a library was constructed and equipped with 1,068 books, an ICT lab was equipped with a printer and 20 internet-connected computers, laboratory instruments such as microscopes were provided and a mixed playground worth FRw 7 million (8,400 USD) was constructed.
Students conducting experiments using a modern microscope provided by World Vision. 
After the intervention of World Vision, Rango Secondary School was able to open S4, S5 and S6 classes with students having a choice of different combinations such as MEG (Mathematics, Economics and Geography), MPG (Mathematics, Physics and Geography) or MCSE (Mathematics, Computer Science and Economics).
"I chose to study computer science as there was enough computers and books at school. I'm able to learn more both in practice and theory," says Annick who is preparing to sit for the Advanced Level National exam. "I am sure I will pass the exam," she adds.  In fact, the overall students' performance at Rango Secondary School has passed from 87% in 2010 to 97% in 2017 due to the range of learning materials that are available to all students. 
"World Vision has been exceptional in all its interventions at our school. Today we are proud to be the school of reference in the whole District of Bugesera in terms of high student performance," declares Hategekimana.