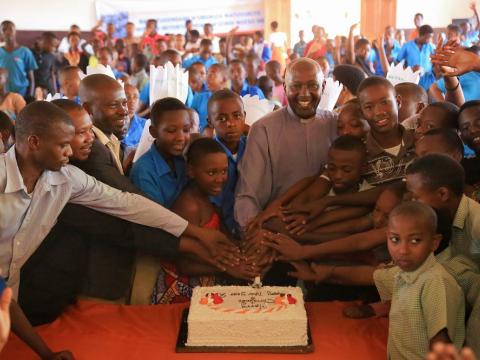 World Vision Rwanda celebrates Christmas with 1,600 children
Monday, January 15, 2018
In partnership with Scripture Union Rwanda (Ligue pour la Lecture de la Bible au Rwanda), churches, and schools, World Vision Rwanda (WV Rwanda), conducted a one-day camp for 1,600 children in the Area Programmes of Kabuga (8 January 2018) and Tubehoneza (9 January 2018), located in Gasabo and Kicukiro Districts (Kigali Province) respectively.
The purpose of the one-day camps, whose theme was "The birth of Jesus, the Messiah" (from Matthew 1:21), was to grow children's awareness of God's love through the celebration of Christmas, and to sensitize young participants on living wholly as Jesus called them to do with their bodies. One of the key areas touched on during sensitization was drug abuse, which is currently a great concern in Rwanda as far as young people are concerned. Put together, the activities of these camps constituted what was called the SpiritualNurtureConferenceforChildren.
Parents, teachers, and church representatives appreciated this initiative, as it brought the Christmas cheer to all of them and their children.
"This is a great event. My son is so happy to be with other children to sing and play. They are also learning important things," said Jacqueline, who had accompanied her six-year-old son, Eric.  
"Christmas in Rwanda is very much celebrated and being involved in this exciting project is truly a gift that enables us to reach out and help as many children as we can." said Karambizi, a Catholic Church representative.
The Spiritual Nurture Conference for Children involved fun and interactive activities for children, such as singing, sketches, and Bible quizzes through inter-school competitions. Winners were rewarded with items such as Bibles, hymn books, school bags, and exercise books.
After being rewarded with a school bag and other school materials, 14-year-old Agape expressed her delight about what was an entertaining event for her:
"I have enjoyed every moment and I am happy to receive these school materials as they will be helpful for my education." she said.
WV Rwanda's Kigali Cluster Design Monitoring & Evaluation Specialist Raymond Uwiragiye, who represented WV Rwanda during the events, said: "We are honoured to partner with the Scripture Union, churches, and schools as we all share the same commitment and passion in helping communities and children. As World Vision is keen on bringing development to communities through different activities, spiritual nurture of children is very important because it is at the heart of child well-being, and children enjoying life in all its fullness."
See more photos about the two events here.