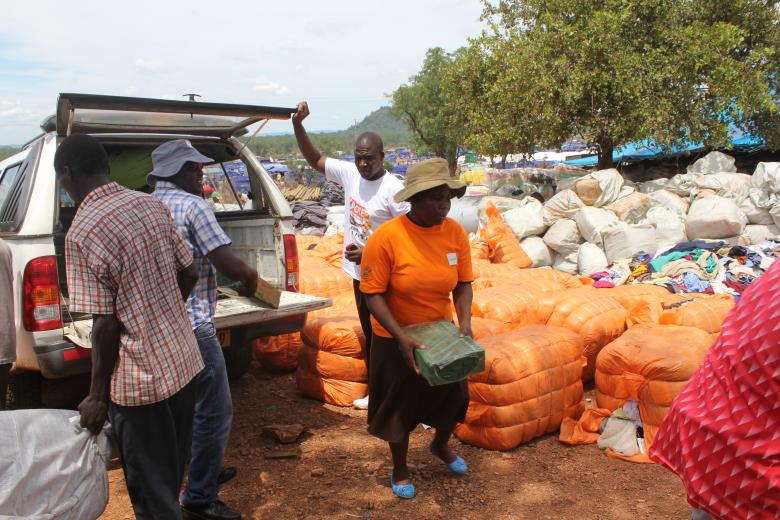 World Vision Zim Assists Flood Victims
Friday, March 28, 2014
World Vision Zimbabwe donated various non-food items to Tokwe – Mukorsi flood victims in early March.
The non-food items which included 100 blankets, 200 bars of soap, 200 plates and 100 pots, were handed  over to the flood victims now based at Chingwizi which is in Mwenezi district. Chivi ADP Manager Gilbert Mushangari handed over the goods. Chief Chivi, from where most of the flood victims lived before they were relocated to Chingwizi, said they were very glad that World Vision had responded to the disaster. "We are very thankful for this gesture. We know that we will now be able to conquer with the assistance that you have given us. We are not surprised that you have come to our rescue because you have always been of assistance even at a time when we had no disasters," said Chief Chivi.
More than 3000 households were moved from the Tokwe-Mukorsi area, in Masvingo Province, after the dam started building up and submerging vast pieces of land. The dam has not yet been completed and the households were supposed to have been moved in phases but following the uncharacteristically heavy rains that pounded the entire country in January and February, water started building and this had not been anticipated.
Government then started moving the people to safe ground and the families lived at schools and clinics prior to being relocated to Chingwizi which is in another district but within the same province.
The situation was declared a national disaster and Government has been working with various other stakeholders to ease the situation.  Mwenezi district administrator, Stanley Chamisa, said they were grateful that World Vision had also responded to the call for assistance.
"However, as you can see, the situation is quite challenging. We need to make sure that the families have adequate food, amenities and also ensure that the children are in school with adequate learning materials," said Chamisa.