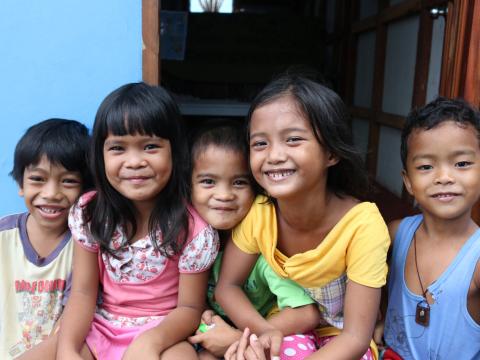 Philippines more resilient 3 years after Typhoon Haiyan
Monday, November 7, 2016
Tacloban City, Philippines -- World Vision joins the people of Leyte and the rest of the country in commemorating the third year after typhoon Haiyan (local name Yolanda) hit the central Philippines on November 8, 2013.
After 1,095 days, rehabilitation work in Haiyan-affected areas remains community-centered recognizing the people's local capacities and the strong partnerships among NGO's, community partners, government and donors.
Ajab-Aram Macapagat, WV Typhoon Haiyan Response Director shares, "Building the resilience of Haiyan-affected families has been our focus this year. Since day one of the humanitarian response, it's clear that community participation is the driving force of people's recovery."
Eastern Visayas region, where Haiyan first hit, has shown significant growth but it still remains as one of the poorest regions in the Philippines. In 2015, Eastern Visayas registered a 3.9 percent gross regional domestic product growth rate as reported by National Economic Development Authority.
During its rehabilitation phase, World Vision's Typhoon Haiyan Response was able to support more than 84,000 people – building disaster risk reduction capacity and livelihood support that open up more opportunities for low-income families.
Over-all, World Vision was able to reach more than 1.6 million people from emergency to rehabilitation phase in Haiyan-affected areas in the Philippines.
"Three years later, humanitarian work is now transitioning to development work. The task now is to continue building on the gains of recovery and rehabilitation to drive growth and development to pre-Haiyan levels and beyond" 
World Vision's Hope for Tacloban's Children and Disaster Risk Reduction Mitigation Projects serve as the rehabilitation component of its three-year humanitarian response. Facing completion by the end of this year, these initiatives focus on restoring livelihoods and improving disaster risk reduction practices in 21 urban and rural communities in Tacloban City, Dagami, Dulag and Alangalang in the province of Leyte.
Over the year, thousands of families in World Vision-assisted communities have been involved in clean-up drives, cash for work activities, savings groups, micro-enterprise and entrepreneurship trainings and other livelihood programs such as crop and livestock production.
Communities also beef-up their disaster preparedness by attending disaster risk reduction trainings and community evacuation drills. Families are supplied with quick-run bags as part of World Vision's Disaster-ready Family (DRF) project, which promotes community engagement as an approach to building resilience.
Restoring public spaces give communities a healthy make over – solar streetlights help keep communities safe at night. Structures like riprap, culvert and footbridges are installed in low-lying and flood-prone areas while vetiver grass and fruit trees are planted along waterways to prevent soil erosion especially during the rainy season.
School repairs and construction of playgrounds in 25 primary and secondary schools, now serve more than 14,900 children. Retrofitting classrooms, toilets and wash areas keep schools safe with children enjoying facilities that are now more conducive for learning.
"By repairing community assets – we're creating safe spaces for families so they can thrive once again. We're hopeful that families will continue leading meaningful lives – stronger and better prepared in the face of impending disasters"
More recently, World Vision responded in the northern Philippines assisting at least 3,000 families affected by super typhoon Lawin (Haima) which left thousands of destroyed houses and damaged farms, but with minimal casualties due in part for the government's improved disaster preparedness and mitigation measures learning from the Yolanda experience.