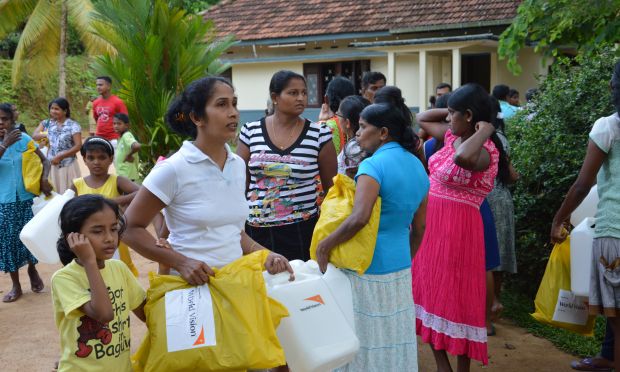 Sri Lanka, 7 JUNE 2017 – Nearly two weeks have passed since the severe Southwest monsoon rains devastated several districts in Sri Lanka. World Vision provided immediate supplies to affected families, and is now moving to the recovery phase to support medium and long-term interventions for the flood-affected families.
The widespread flooding and devastating mudslides took more than 200 lives, displaced over 25,000 people and impacted an estimated 700,000 individuals. Most strikingly, among the fatalities, were 44 school children.
Although the weather has improved and the waters have receded, most areas continue to experience occasional rains and some areas are still at high risk of landslides. After two weeks, families have begun to clean up their mud-caked surroundings and rebuild their lives.
"After providing immediate relief supplies, we are now focused on preparing families so they can bounce back and rebuild their lives," says Urmila Selvanayagam, Response Manager of World Vision Lanka.
The recovery phase will focus on rebuilding water, sanitation, and hygiene facilities, supporting the reconstruction of damaged houses, helping children go back to school, and rehabilitating livelihoods for the families. "We will also have a special focus on helping communities become more disaster-ready and resilient for the future," says Urmila.
In most flood-affected areas, waters took at least two days to recede and some areas continued to be under water for several more days. Affected communities were inaccessible due to both floods and landslides.
World Vision's emergency response focused on the most affected families in Kalutara, Ratnapura Kegalle, and Galle Districts, providing for their immediate needs. The relief items included; 758 hygiene kits with soap, toiletries and other sanitary essentials; 378 on-Food-Item packs containing plastic mats, cups and plates, blankets, and slippers; 800 food assistance packs; 240 baby kits; 748 medicine packs; and 293 tarpaulins.
World Vision set up Child Friendly Spaces in one of the camps in Ratnapura to help provide a safe place for children displaced, and to help them regain a sense of normalcy.
"Compared to the previous year's, the scale of this year's disaster is bigger," says Urmila. She added that the level of devastation is far greater not only compared to the number of people who died or who got displaced or affected, but even in terms of destruction caused to infrastructure. There were multiple landslides and more than anything, the communities were not prepared. "Despite warnings by the government, people didn't imagine for the monsoons to create such a massive disaster," she says.
Four districts where World Vision operates, Wattala (Gampaha District), Nuwara Eliya and Neluwa (Galle District), were also affected, with Neluwa suffering the most damage. Neluwa experienced both landslides and flooding as waters rose up to 12-feet (4m) in some areas. World Vision also did not escape disaster, with the World Vision office in Neluwa completely submerged in water, and all assets and documentation destroyed.
Families had no water and electricity for several days. Schools, temples, and other buildings that are in safer locations are used as safe centres to shelter families who have lost their homes and those evacuated from the high risk areas. Schools were closed during the past week in the affected Districts and some schools continue to remain closed.
The biggest needs in the affected communities are access to clean water and sanitation facilities. A large number of wells in affected areas have been contaminated.
While the adverse weather in the southern part of the country has pushed the communities into a disaster, the drought continues to make life extremely difficult for the communities in the north and east. The monsoon rains have not ended the drought, but in fact worsened the effect on the farmer communities, by flooding and destroying even the seed paddy that they had saved for the next cultivation season.
Media contacts:
Hasanthi JayamahaManager - Communications, World Vision Lanka
Manager - Communications, World Vision Lanka
Email: hasanthi_jayamaha@wvi.org | Skype: hasanthij
Phone: +94-77-3290042
Urmila Selvanayagam
Manager - Humanitarian Emergency Affairs, World Vision Lanka
Email: urmila_selvanayagam@wvi.org | Skype: urmi12389
Phone: +94-11-2691233
World Vision is a Christian relief, development and advocacy organisation committed to helping children enjoy life in all its fullness. World Vision in Sri Lanka works in 19 districts in over 30 project areas. We serve over 270,000 children in Sri Lanka through education, child protection, health and nutrition and economic development.