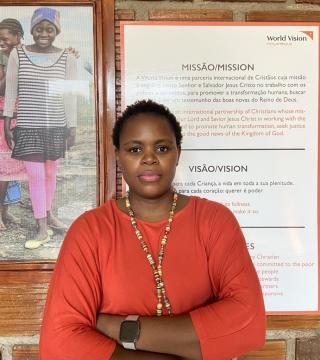 Idalina Roia Alfai
Regional WASH Director for the Southern Africa Region (SAR)
Idalina Roia Alfai is the Regional WASH Director for the Southern Africa Region (SAR). She brings more than 17 years of experience to the role, including 9 years leading the WV Mozambique WASH programme. As Regional WASH Director, she provides SAR offices with focused leadership and guidance toward the achievement of sustained WASH outcomes and their contribution to child well-being objectives. She is also responsible for external engagement and strategic partnerships for advocacy, policy influence and resource development. 
Idalina holds a graduate certificate in International Water, Sanitation and Hygiene from the University of Nevada, Reno (Desert Research Institute) and a certificate in Local Development with a Gender Perspective from the International Training Centre of ILO in Turin, Italy. She has completed post-graduate studies in the Socio-economy of Development and a bachelor's degree in Sociology, and is near completion of a master's degree in Public Health Studies. 
A Mozambican national, Idalina lives in Maputo with her husband and three children.