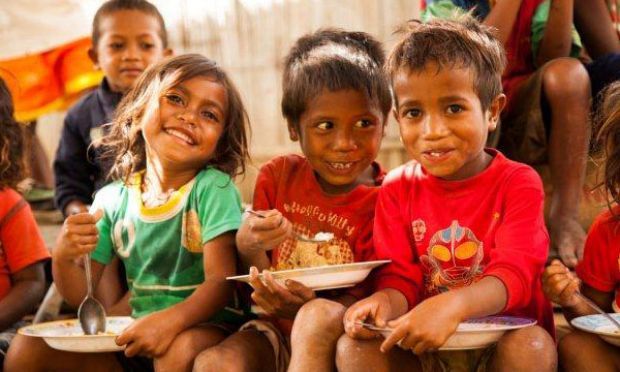 By Martha Newsome, Vice President – Sustainable Health, World Vision International at the Scaling Up Nutrition Global Gathering in Milan, Italy.
When I call global malnutrition a "wicked problem", I'm not indulging in pre-Halloween hyperbole. The fact that 1 in 3 people on the planet are malnourished is surely immoral. But when I use the phrase "wicked problem" I'm rather referring to the concept coined by Horst Rittel back in 1973.
Rittel's wicked problems were difficult or impossible to solve because of incomplete, contradictory, and/or changing requirements—they were resistant to resolution, rather than evil. Moreover, because of complex interdependencies, the effort to solve one aspect of a wicked problem may reveal or create other problems.
One critical characteristic of a wicked problem is that it is a symptom of another problem and for malnutrition we have this in spades: it's a symptom of poverty, climate change, of lack of health services, food insecurity, poor sanitation and hygiene, and nutrition behaviours/culture practices. Our conceptual models demonstrate just how inter-reconnected it is and this fact makes malnutrition very difficult to solve.
I am pleased and proud that World Vision has maternal, newborn and child malnutrition in its sights, and that, as part of that, I accepted an invitation to join Scaling Up Nutrition's (SUN) Executive Committee.
SUN is a demonstration of the power of collaboration to solve the most complicated, intractable, wicked problems. The SUN Network members (currently 2100+) engage leaders at all levels – not least Governments who have the greatest mandate to reduce malnutrition in their nations. The SUN Networks also serve as knowledge and skill-sharing platforms, as learning hubs – letting people share their successes and failures with each other.
The movement also mobilisers donors; the SUN Movement Multi-partner Trust Fund has allocated a total of USD 9.9 million for nutrition and SUN Civil Society Alliances in 24 countries have benefited.
With this incredibly powerful SUN architecture in place, we have an opportunity to confront the next set of challenges needed to solve this wicked problem. Multi-sector, multi-stakeholder platforms are the backbone to our response strategy. But now, we need to drive our efforts and action from national to local level.
One of my favorite words is glocal: implying the need to connect global to local action. Speaking at this morning's SUN Global Gathering opening plenary, I told attendees that now is the time to push for moving the gains the SUN Movement has made in countries at national level – down to the community level.
Having just returned from Sierra Leone and Senegal, I have fresh memories of community members promoting the behavior change needed to increase adoption of key behaviors and interventions that will get us to zero people malnourished.
As members of civil society and of SUN, World Vision, and the thousands of other Network members, now have a critical role to play in helping governments drive down action to community level.