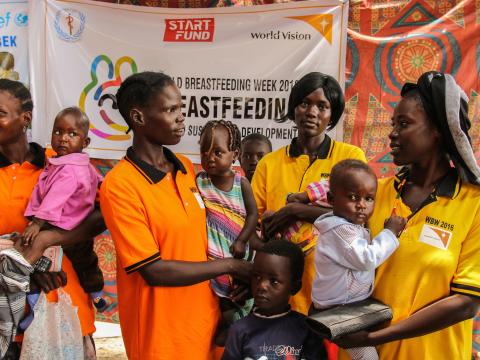 World Vision joins in marking international breastfeeding week
Friday, August 5, 2016
World Breastfeeding Week is celebrated every year from 1 to 7 August all over the globe to encourage breastfeeding and improve the health of babies around the world.
In South Sudan, World Vision joined other partners in marking this at the Gurei Primary Health Care Centre in Juba, in an event that was graced by the Minister for Health for Jubek, Dr. James Eluzai.
Dr. Eluzai said that in addition to ensuring that babies are healthy, breast-feeding also creates a strong bond of love between the mother and the baby and this love extends to others.
"Studies have shown that children who were breast-fed tend to have more love for humanity," he said. 
World Vision operates a project known as Infant and Young Child Feeding program under which awareness on the importance of breastfeeding is raised among mothers.
According to Joyce Kuron, a WV Health and Nutrition Officer, this program aims at improving the health and nutrition of infants and young children by encouraging early initiation to breast milk.
"We encourage mothers to initiate their babies to breast milk immediately after birth and to continue with exclusive breast feeding for the first six months," she says.
Joyce adds that the more a mother breast-feeds, the more milk she produces, ensuring that she has enough for the baby.
"We also teach mothers about the introduction of complementary food after six months but encourage them to continue breastfeeding until the children are about two years old," she adds.
World Vision also takes care of pregnant and nursing mothers who are moderately or acutely malnourished by putting them in a programme where they receive supplementary food, which is fortified with the necessary vitamins and minerals to treat malnutrition and improve their health and nutrition status.
Link to photo gallery of the event:
http://wvi.org/south-sudan/gallery/world-vision-joins-marking-international-breastfeeding-week