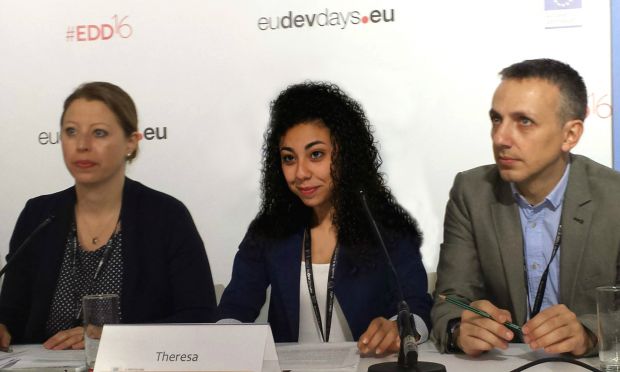 Theresa is a young peacebuilder from Lebanon who participated in the "Promoting Young People as Peacebuilders - How Engaging Youth can Prevent Violent Extremism" panel at the 10th edition of the European Development Days -EDD. This panel discussion event was organised by World Vision, Search for Common Ground and Interpeace, and aimed at providing EU policy-makers with recommendations on how the European Union should engage young people and support their initiatives to prevent violence. Theresa contributed to this debate by sharing her stories, ideas and experiences on preventing violence and building peace in her local context.
Theresa's speech
Peace!
My name is Theresa, 16 years old from Lebanon. I am here representing the feast members. The feast is a project that involves children of different religions, Muslim Sunni and Muslim Shiites, Catholic and evangelical.
As many of you might know, Lebanon is a particular country which has 18 confessions and went through a civil war between Christian and Muslims.
The meetings we used to participate in, used to help us to communicate and accept each other's opinions and especially accept our religious diversities.
During the activities, we used to be divided into different groups, in each group there was a representative of each confession.
In the beginning, there was fear, hesitance and stereotypes. In the activity, there were many questions in addition to debates about all the religions. It was not easy at the beginning to understand each other's opinion, but later on, after many meetings, many gatherings and exchange visits we started understanding each others.
As for me, it was difficult to build trust, and something inside me was preventing me from opening up to them but after all our meetings and gatherings, I was able to understand them, accept them as they are.
In the community where I live, there are two kinds of people, some people who promote diversity. They do so as they study together, work together and live together. Other people are against diversity for several social, political and religious reasons.
This experience has taught me many things:
· I learned to accept the others and communicate well with them, to respect and love the others the way they are.
· I now believe that the other person represents himself and not his entire religion.
· I learned to open up to other persons, give them the chance to express themselves and tell more about their personal faith without judging them, their beliefs, or the religion they belong to.
Participating in such project helped my friends and myself speak out our concerns and our interests. This is very important for us to be able to deal with our issues now and in the future.
Before ending up my speech, I would like to share a very personal experience. Two years ago, I lost my cousin who used to fight with the Lebanese army against Isis. We were so sad and mad, confused and powerless. However, we agreed not to face violence with violence. We firmly believe that these extremist fighters represent themselves, not the religion they belong to. This is what, we, the feasters believe, and this helped my family and myself continue our life in a peaceful way.
In the end, I want to ask you to listen to us, children and young people, to help us reach a positive place where we can improve our society. I want to ask you to support other feasters, peacebuilders, around the world, spread the culture of peace through awareness-raising campaigns and other similar projects.
Lastly and most importantly, be reminded that I believe, and I want you to believe that we all should not fight extremists; we should rather fight extremism.
Please do help to empower the vulnerable communities by spreading the culture of peace around the world!
Thank you very much.
Theresa
For further information, please contact Alexandra Matei, Policy and Advocacy Officer, at Alexandra_Matei@wvi.org